Mudsock award turns over to Fishers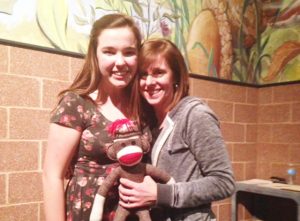 Natalie Lueung– After two years Fishers finally won over the Poerty Slam Mudsock award. This event is quite new, it started in 2012 and the "trophy" is actually a Sock Monkey. Students had to audition to be able to perform their piece at the event.
According to senior Isabel Thielking, there were only 20 spots available, 10 from HSE and 10 from Fishers. Most of the students in poetry club were encouraged by sponsor Renee Isom to try out for Poetry Slam.
"I joined poetry club in the fall and I just love slam poetry," said Thielking
The Poetry Slam this year was held in Cafe A, April 22. There were four judges total, two represented HSE and the other two represented Fishers. Senior Katie Gucinski was the only poet that scored perfectly and won the Sock Monkey Mudsock Award representing the entire school.