Mitch Lorkowski– Swinging fast into the season, the Lady Tigers have yet to have a game due to weather cancellations, but they still practice rain or shine. Their first three scheduled games have been canceled thus far.
"We are all disappointed that the games keep getting canceled, but we'll squeeze one in soon and make the most out of the opportunity. We are all ready to play and win thats for sure," junior pitcher Stephanie Green said.
The varsity teams record last year was 19-7. They lost in the sectional game versus HSE 0-1.
"We weren't happy with how the season ended last year, so I think its our goal to exceed that this year. We believe we can, and thats the first step in our success," Green said.
The ladies lost six seniors from last year, but gained four with the juniors from last year try and step up to help lead the team.
"The senior leadership from last year was a big part in our success, but we have great seniors this year as well that will fill that void," Green said.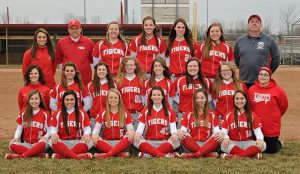 The Tigers have games today (4/1) at Muncie starting at 5:30 p.m.