Evening of red carpet prom makes students feel like stars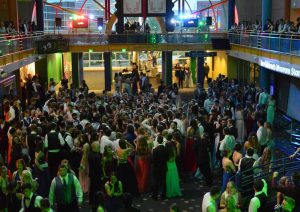 Teens cleaned up for the iconic tradition of almost every school; Prom. An evening of music and dancing was prepared for all prom-goers on Saturday, May 9, held at the Indianapolis Children's Museum giving the charm of a the attractions of a museum and a location on the city.
Those attending most commonly prepared throughout the day, leading to taking photos with dates and friends as a memento and for posting on social media and dinner at a restaurant.
LeVine, like others accompanying a date to the museum downtown, arranged for special transportation. For their first prom, LeVine along with his date, Krista Roze, rode in his dad's Porsche.
"Just hanging out with friends the whole night, it was fun," junior Josh LeVine said of his favorite part of prom.
Another close was made to the 2014-15 school year with this prom, and students look forward to more occasions such as this.