Tigers top North Central in season opener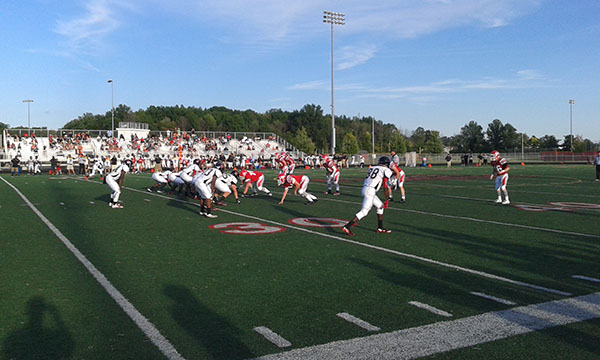 The Tigers hosted North Central on Friday, August 21 to kick off the 2015 high school football season.
Perhaps shaking off the rust from the long offseason, the first quarter ended scoreless before senior quarterback Zach Eaton found senior wide receiver Kade Orris from 10 yards out to go up 7-0 in the first play of the second quarter.
Senior Jeremy Chinn, who will be playing running back in addition to his cornerback duties this season, punched it in from three yards with 3:05 left in the second quarter.
The game went to halftime with the Tigers leading North Central, 14-0. FHS' defense was making it tough on North Central, as junior defensive tackle Jeff Inman had three sacks in the half. Senior linebackers Trent Nielson and Zeke Dunnuck both had four tackles each.
Drives from both teams kept falling short until Chinn had a 36-yard burst with three minutes left in the third quarter that led to a nine-yard connection from Eaton to junior fullback Mason Davis for a score.
The Tigers led 21-0 going into the fourth.
North Central was driving and found themselves in the red zone before coughing the ball up on FHS' 13 yard line. The Tigers recovered.
After burning four more minutes off the clock, the Tigers found pay dirt once again as Eaton tossed his third touchdown of the game, this time with junior receiver DeVonte Adams on the other end.
North Central got to the Tigers' 13 once again, only this time to throw an interception to senior cornerback Colton Thomas in the endzone.
The Tigers ran out the rest of the clock and beat North Central, 28-0.
Chinn likes what he saw in the opening game of the season.
"I think our defense has gotten off to a great start. Our offense is rolling. We have got some things to work on, but we are just going to keep on improving."
With two road games (Pike and Noblesville) before returning home again to face HSE, Chinn thinks the team can continue to build off its defense.
"We know what our defense can do. We go out on the road, our defense is going to have energy and we are going to bring it like always. If we have a good game defensively, if they have zero points, we got a win."
Pike and Noblesville are both off to a 1-0 start.