Forensics sparks interest in students looking for more hands on learning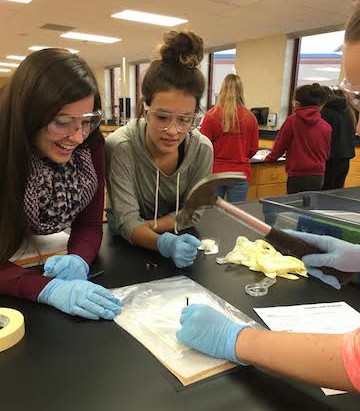 Forensics class is  much more than just what is shown on TV shows like CSI. This class involves the application of science to legal cases. It gives students a basic understanding of forensic science, its history, case studies and current methods used.
Forensics was proposed by a teacher at HSE last year. However, the teacher who proposed the class no longer teaches at HSE so it is not offered there.
"I think it [forensics]  is an active class and there are enough different aspects to it that we will hit everyone's interests at some point regardless of what those interests are," forensics teacher Darcy Banitt said.
Forensics is a year long class, and students are required to have successfully completed  Biology I or Honors Biology and ICP, Chemistry I or Honors Chemistry.
"It [forensics] gives a good idea of what a career in forensic science could be like and covers the basics of forensics. If you enjoy hands-on learning there are lots of labs and experiments," senior Olivia Pretorius said.
Forensics does rely on hands-on learning with the labs they have done. They have examined stains, performed autopsies on pickles, measured bones and smashed pieces of glass to examine the fracture marks.
More information on this class can be found here.