"Fiddler on the Roof" cast upholds tradition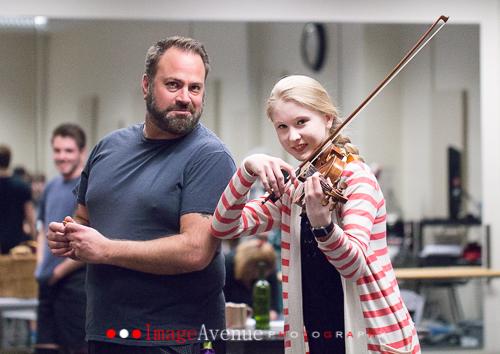 Charming and humorous, the classic tradition of "Fiddler on the Roof" was continued in Booth Tarkington Civic Theatre located in Carmel. Beginning preparations in February, the cast put on a marvelous show filled with laughs, tears and iconic scenes.
Following the storyline of a tight-knit Jewish community's customs and experiences, this portrayal of "Fiddler on the Roof" made viewers feel as though they were experiencing what the characters were going through. As performers sang and danced, it was difficult to fight the urge to get up and sing along.
On opening night, April 22, actors and musicians performed the show for the first time in front of an audience. Energy flowed from the stage as the cast performed the iconic opening song, "Tradition," setting the tone for the rest of the night.
Whether a fan of the original musical or a newcomer, this performance touched the hearts of everyone in the audience. The performance of, "Do You Love Me," sung by Tobin Strader as Tevye along with Marni Lemons as his wife, Golde, was particularly touching.
Performers not only conveyed a sentimental feel, but also a humorous vibe with Tevye's humorous monologues in which he contemplated the meaning of life and how fast it moves.
The famous "Fiddler," played by Metropolitan Youth Orchestra violinist, Erin Jeffrey, played a melodious tune at major turning points in the storyline. Jeffrey has been playing the violin since the age of five and is currently 14 years old. She has previously performed in "Seussical" as a featured dancer, "Charlotte's Web," "Sleeping Beauty" and a variety of other productions. It has been a dream of Jeffrey's to play the role of the Fiddler.
"I've always loved 'Fiddler on the Roof,' and ever since I saw the movie with the big cadenza at the start, it was amazing…I just really love the story. I think that the story has a lot of meaning," Jeffrey said.
"Fiddler on the Roof" proved to be a unique production, offering a touching and lively performance.
"In all the other shows I've been in I never had to play the violin in the show, so this time while playing the violin I have to be a lot more animated and be an actor while playing the violin, so it's a little bit different," Jeffrey said.
Booth Tarkington Civic Theatre's "Fiddler on the Roof" will continue through May 7. Tickets are $43 for adults and $20 for students. For tickets and more information on "Fiddler on the Roof" and other shows, click here.