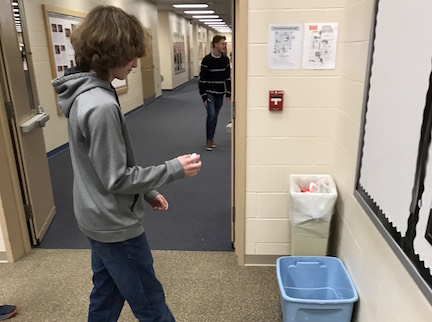 Throughout the week, members of the Recycling Club can generally be found visiting classroom to classroom, collecting paper waste. The group meets everyday during school with Warren Sidwell, the club's sponsor. Junior Justin Boyce, one of the club's newest additions as of the beginning of this semester, has enjoyed the day to day routine.
  "I gain a sense of pride from this club because I am not only helping the earth but I am forming friendships with these special ed students," Boyce said.
Boyce spends his fifth period with the club and his responsibility is to help watch over the club's six special ed members while they do their rounds. Students like Boyce looking for peer tutoring opportunities can find it here.
The recycling club works to save some of the school's waste production from getting back to the earth. This semester, in accordance with its increase in membership, it has a goal of increasing efficiency and the amount of ground it is able to cover on a daily basis. That, and making friends.