Pop-ular music springs into orchestra concert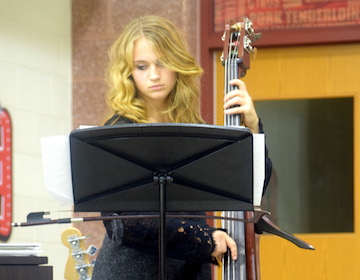 Star Wars, the Pink Panther and Journey are all well know movies and music in pop culture. When it comes to hearing this music played by an orchestra in person, most have to travel or pay expensive fees to do so.
The school orchestra's will be hosting their spring concert on Feb. 6. Each of the music pieces the ensembles will be playing will be well known Pop songs.
Some of the pieces that will be played include "Star Wars," "Salute to Mancini" from the Pink Panther, "Falling Slowly" and "Don't Stop Believing." Students were able to vote on the pieces that will be performed, they were given multiple options in each of the groups and the most voted on pieces are the ones that will be played.
"Overall I really love the pieces we selected, they are not too challenging but also not too easy," senior Joonu Ryu said. "Each piece has a really great melody."
The show will be in auditorium and begin at 7 pm. Admission is free and open to all who wish to attend. For more information about the orchestras or the concert contact Nicole Deguire here.