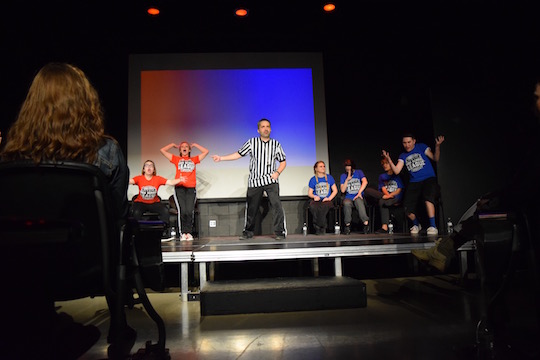 Process of a comedy sports show is having two teams on the stage where they compete by playing games and different challenges. All of the competition is improv meaning none of it is rehearsed and all the things said on stage come to them right in that moment. There are a variety of instances in which a team can lose a point as well.
March 9 the Comedy Sportz team played against Carmel in the blackbox. The players on the FHS side were juniors Brayton Wilds, Joey Kelly, senior Bri Morkal and team captain senior Stephen Hiatt.
Before the match it was brought to the audience's attention that there are two different fouls within the game that have consequences. The groaner foul happens  when someone makes a pun or just a bad joke. The brown bag foul occurs when an audience member suggests something not school appropriate. Violators recieve a brown paper bag which they have to wear on their head for the remainder of the match.
Some games played include rap battles, Oscar winning moment, replay, challenge and back in my day. The Oscar winning moment category came accompanied with several groaner fouls. A player from Carmel kept making puns and caused the audience to erupt with groans and laughter. During his mandatory apology for the foul he made another pun which resulted in the loss of the three points for his team.
This was the moment that gave Fishers the lead in the competition. The winner of the night was determined by how loud the audience cheered for them. FHS won and then the improv teams commenced a slow motion trophy montage where they pretended to fight over the award. The next competition will be on April 18th in the blackbox. 
"People who do improv have to be really smart and know how to work with one another,"  junior Joey Kelly said.
Comedy Sportz is led by theatre teacher Jon Colby. They hold auditions every fall and but spots are limited. For more information visit their twitter.
"Comedy Sportz is just like one big family to me and I encourage anyone who loves theatre to try out next year," Kelly said.