Show choirs take center stage in Silver Spotlight Invitational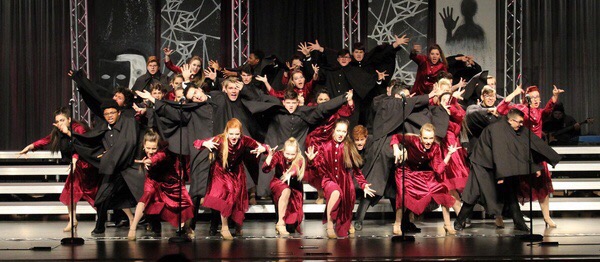 Show choirs dance into their season this weekend with the Silver Spotlight Invitational. Hosted by FHS, the competition includes unisex, mixed and solo competitions throughout the day. Admission is $15 for adults, $10 for students and senior citizens and free for children four and under.

As host of the event, FHS is not able to win any awards, but they will still perform under the exhibition category. Exhibition means they will put on their set show, but the scores they are given will not play into any awards for the team. However, members of the show choir still see this as a valuable learning experience.

"It gives the choir an opportunity to perform our show set in an environment that has judges who give us scores," sophomore Jackson Bell said. "It is our first time performing our set for a large audience and it marks the true beginning of show choir season."

Bell sees this as a positive opportunity to show off the spectacle they have worked on all school year, but it also lets the choirs know what they need to work on.

"We do have an issue on timing," Bell said. "Our performance runs a little long, so we need to be really fast on the set changes."

Along with trying to put on a flawless performance, the show choir also has to execute the job of host. The choir has been busy booking food vendors to be available throughout the day, organizing schedules for visiting choirs and decorating the classrooms the choirs will wait in before they perform.

The event will end with the awards ceremony, which will not begin until past 11 P.M. After a long day of singing, dancing and helping others, members of the show choir will be able to head home in the early hours of the morning.