Coffee for Kiddos puts creativity to cause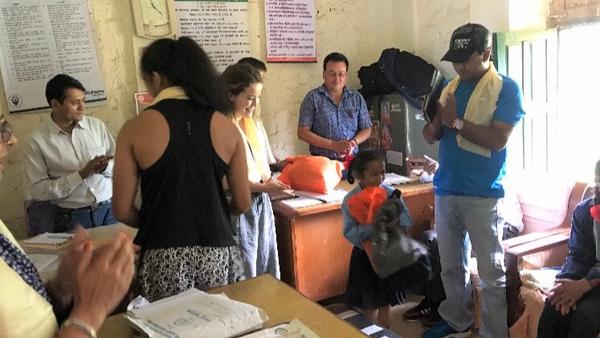 Juniors Maddie Butler and Liza Pradhan visited Nepal last July in order to distribute supplies to schoolchildren in need. When they returned, they focused on finding more ways to contribute to the Nepalese community.

The two considered various fund-raising ideas before eventually deciding to combine their efforts with student musicians from FHS. Titled Coffee for the Kiddos, the event raises money by selling tickets for people to come listen to speeches made by the two girls and performances by junior Gabe Glover, junior Mariam Sheikh and the musical group Shiver and the Shakes.

Butler and Pradhan collaborate with the Shankar-Suburna Foundation, which Pradhan's uncle is affiliated with. They worked with event coordinators to plan the concert, book the venue at Saxony Hall and call multiple businesses to try to gain their assistance.

"It's been amazing to see through this whole process that when you tell people about your cause, they're willing to help and do everything they can to make it easier on you," Pradhan said.

Pradhan maintains a close connection with the country. Outside of her trip with Butler, she has visited multiple times for religious ceremonies.

"My family is from Nepal. That's my heritage. I've grown up with it," Pradhan said. "The kids there are so genuine and happy for what they have. They have so much potential and if we just give them more they could flourish so much."

The money raised goes towards supplies for the students attending Shree Saraswoti Secondary School, named after the Hindu goddess of knowledge. These supplies will allow children there to continue going to school with the appropriate necessities.

"It was an amazing opportunity [to visit Nepal]," Butler said. "And we knew that when we came back that we wanted to do more for them because Nepal had given me such an amazing experience. It's also made me value education more and it's really cool to be able to support the idea of learning."

The event will have a laid-back atmosphere where guests can arrive and leave as they choose. Refreshments including pastries and coffee are included with the $10 ticket, courtesy of various businesses around Fishers.

Coffee for the Kiddos will be held at Saxony Hall on April 13. Tickets are available at lunch for the remainder of the week and can also be purchased directly from the performers.