Media center invites performers to Fine arts Fridays
A quiet murmur settles over the media center as student Hadessa Henry gets on the stage. Slowly she starts to sing "Skyscraper" by Demi Lovato, gaining confidence as she goes on. People in the media center quiet to listen as she expresses herself through the song.
Fine Arts Fridays is a tradition where students can choose to perform in front of their peers. On the Oct. 5 session, a crowd of students gathered to listen to the performance. While some went for the music, other passersby happened to be in the media center for their own reasons, such as Senior Lauren Smith.
"I think that it's a good experience for people to hear music, especially from their peers," Smith said.
On the other hand, some students go specifically for the performance. Senior JC Camacho has been to multiple Fine Arts Fridays throughout high school.
"It's really cool to see your peers do something creative, whether that be singing or playing an instrument," Camacho said.
These performances not only serve as entertainment but also inspiration for other people's own creative passions.
"I think it gives a cool insight into the type of talent [that] we have here," Camacho said. "It opens people's minds to different things they could do and inspires them."
In the future, the tradition will continue on with more performers, as they sign up. Performers can sign up in the media center.
Leave a Comment
About the Contributor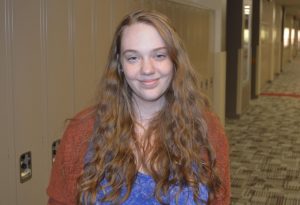 Marie Gabbard, Reporter
Marie Gabbard is a first-year reporter and a senior on staff.