Nationwide study pushes for higher safety standards
January 18, 2019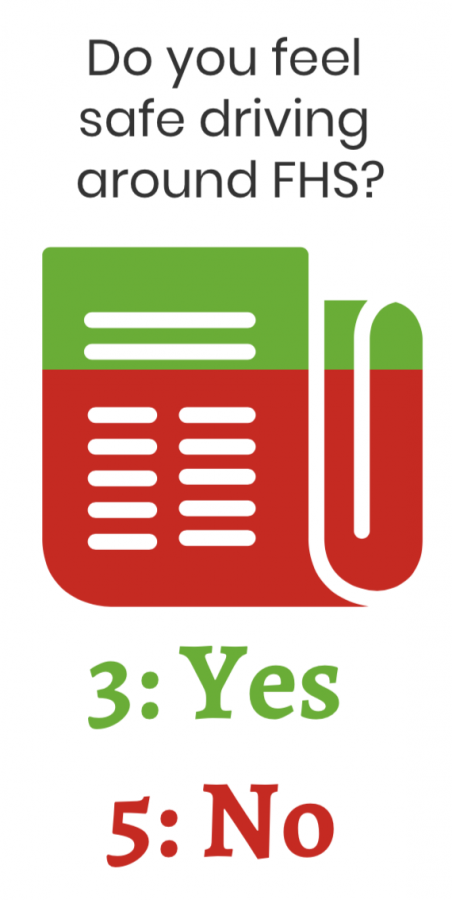 Fishers High School failed this year. The Zendrive School Safety Report issued a failing grade for road safety around the FHS area due to alarmingly high accounts of phone use and speeding, making us the fifth most dangerous school in Hamilton County in terms of transportation. Most troubling, this is not the first year for this to happen. We received the same failing grade last year. No one seemed to notice and nothing has changed.
Motor vehicle accidents are the leading cause of death for those between the ages of 5 and 18, according to the Center for Disease Control. It ends the lives of six teenagers every single day. Yet, thousands of students commute here on the bus, in their car or on their bike, likely blissfully unaware of the danger around them.
It is not enough to settle for unsafe driving conditions simply because we attend a high school. Carmel High School, a mere 11 miles away with over 1,000 more students, received an A+ from the same, nationwide report. Additionally, a change would not be hard to make. According to Zendrive's study, out of the top 10 most dangerous schools in the country last year, nine of them improved. Perfection would not be our goal, but at the very least progress needs to be made so we are not, well, the worst.
Officers are always around during the busiest parts of the day: arrival and dismissal. Officer Matthew Ruhnow deals with a heavy majority of the traffic during the school day.
"I feel that our streets along FHS, like 131st and Promise, if it was up to me, I would widen them to make them four lanes," Resource Officer said. "There's just so much traffic and people can get impatient."
Interestingly, CHS has a four-lane road located directly beside the building, which would account for the decrease in congestion. Their student parking lot is also located a fair distance away from the entrance students use.
Changing the configuration of the streets still does not change the prevalent phone usage discovered by the study. According to the U.S. National Library of Medicine, children's attitude toward safety develops far before they even begin to learn to drive. In order to instill caution when it comes to texting and driving, schools should consider mandatory lessons on driving before they get to high school. These lessons would include the emotional persuasion, which The National Library of Medicine described as, "most effective where young drivers are concerned."
The campaigns included in Indiana Online Driver's Education are too late. They reach an audience who has likely already decided what is safe and what is not. If implemented earlier, perhaps we could combat the prevalence of casual texting and driving.
Our community will only continue to grow from here. Eventually, we will need to make changes to the setup of our streets, and the present is a great time to start the conversation. As of now, the only immediate change we can make is for ourselves. By simply watching our speed and putting cell phones away, we instantly make our school safer.
This report acts as a warning, a warning before something devastating happens. It is vital for us to address and solve these issues before that time, not after. But to do so relies on every single person at the school. Everyone, not just the students, not just the administration, not just the teachers, not just the parents, but every single person traveling to this building, needs to take the steps toward making our roads safer.