Capstone students face challenges, new changes (testimonial)
Doors close once again. Another day, another semester….and another AP Capstone teacher arrives. I have been a part of the AP Capstone program for two years. AP Capstone is an optional diploma offered at the school, and consists of two classes that students will participate in, being AP Seminar and AP Research. The first class of the program is AP Seminar, and in that class we were taught skills in presentation and formal writing that will be used in AP Research. This year, we as students are required to locate a gap in research over any topic of our choosing that we intend to fill with our own research.
However, AP Seminar and AP research were experiences different from the norm for the class of 2019. Starting in seminar, we originally had a performing arts teacher, Matt Rund. Rund had been a teacher of the AP Seminar class for a few years and had a well developed understanding of how to help the students pass the course. However, shortly before fall break of last year, he announced that he would be moving schools to take on the role of vice principal at North Central.
The day before fall break, the class got to meet our new teacher of the class, who had previously never taught AP Seminar before. Performing arts teacher Scott Black arrived with a smile on his face and believed we were probably concerned with what was to come. He was not wrong, but Mr. Black had to learn the curriculum along with us, having to learn how to complete the tasks throughout the year. This produced a few challenges.
"It became difficult for us to learn with a teacher who was also learning, because it took away from us a little bit," senior Zack Elliot said. "It's like trying to teach a friend of your how to do a math problem that you yourself are still trying to figure out."
In the end, Black was a fair teacher for what it was worth. He was forced to learn the class himself and then teach it in an adequate way that allowed students to pass the course and the AP Seminar exam, which a majority of students did.
Then it was the beginning of another school year, and the next chapter of AP Capstone. Bridget Goss was one of the teachers. This was her second year teaching AP Research, and she had a well-rounded understanding of how to be successful in it, which had been indicated by the level of success her students had received. She said towards the beginning of the year that all of her students had scored a 3 or higher on the exam.
Moving on to the end of the semester, the class received another bit of news that was also slightly worrying. Our teacher had found an opportunity that fit her aspirations more than her current place. We were thrilled for her because we knew how much this new opportunity meant to her, but we were slightly worried with what direction AP Research would take.
"Changing teachers during AP Research had a much more profound impact because the class is based on a whole year process," senior Nishant Chenchaiah said. "Since research is so cohesive and inclusive of the entire year, a change in teachers mid-way through the year really threw me for a loop when it came to adapting to the change in classroom physiology and teaching styles."
Unlike the change in teachers during AP Seminar, we were placed under guidance of a veteran teacher of the course, english teacher Ben Beasley. Having been placed with a teacher who has lots of experience with the curriculum improved our transition and allowed us to gain multiple perspectives of how to go about our research projects.
Although there have been a few changes over the first two years in terms of teachers, Beasley reports to his students that some changes could be arriving in the future for the program. A lot of talk has been going on about making the AP Research course more independant, by making it a flex period. Students will not have to show up for class, but will be required to show up and meet with the teacher for a specific amount of time per week. This is, however, not final for the curriculum and is still being worked out.
"I do think students taking the AP Capstone courses should be excited for the changes coming next year," senior Lauren Miller said. "Don't get me wrong, it will still be a lot of work and it will be very time consuming, but I do think students will be able to benefit from what they learn in the classes."
Leave a Comment
About the Contributor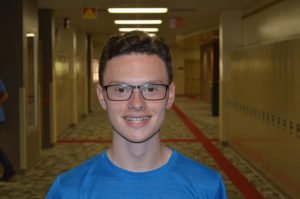 Sam Bauer, Reporter
Samuel Bauer is a current senior. He is involved with sports, namely soccer, and academics, and has a passion for photography, film, and science which...