Environmental Advocacy Club protects the planet with Earth Day event
Earth Day is around the corner on April 22. To celebrate the Earth and the environment, the Environmental Advocacy Club is holding an Earth Day event from 4 p.m. to 7 p.m. in the black box with a variety of activities.
"This event is to bring the community, both students who go here and their families, so that they can come together and learn about the Earth and what things we should do to help the Earth stay well enough for us to live on," sophomore Chloe Chamberlin said.
The event starts with a PowerPoint presentation that includes the missions and beliefs of the club. Guest speakers and club members will also educate those who attend about the Earth and the negative impact humans are having on it.
After the presentation, the club will host different booths with specific topics. Members of the club will have their own booths with a topic such as climate change, decreasing carbon footprints, and mass production in fashion and why it is harmful to the environment.
"Personally I came because my friend invited me but then we started talking more about [this event] and then I realized how we're destroying the Earth and I have feelings about that," junior Brian Davis said. "It's not a good thing."
Other activities will be held throughout the night, ranging from making personalized trail mix to picking up trash in Billericay Park. A poster where people can write inspirational messages and a photo booth will also be available.
"I believe [Earth Day] is an important day because every important thing has a holiday or a day of remembrance," Chamberlin said. "Earth Day is another one of those days, but we're making this so that it's not one of those days just pinned on your calendar. We have it as a day where you actually get to do something on that day, something that's meaningful."
Leave a Comment
About the Contributor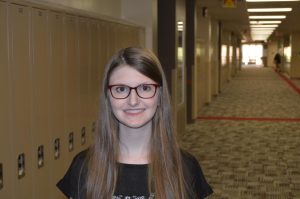 Hallie Gallinat, Reporter
Hallie Gallinat is a senior third-year journalist for N the Red. She currently serves as the Unity Director on staff, where she coordinates teambuilding...