Fishers shares culture with Essex in London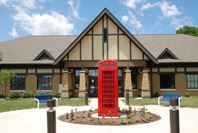 Fishers's sister city Billericay in Essex London shares a history that combines and spreads culture.
In 1996, the town, now the city, of Fishers began its search for a sister city. The search for a sister city is a program that was started by Dwight D. Eisenhower in 1956 in an attempt to create and maintain cooperation from cities in the US and cities elsewhere in the world. After many mutual agreements between the two cities, it was decided that on September 7, 1998 the two would make efforts to become a pair of sister cities.
Becoming a sister city is a process that involves a lot of collaboration between the two cities. This process is run and organized by Sister Cities International, an organization founded on the premise that increasing foreign relations strengthens ties between the two involved countries.
"If cities paired with similar cities, there could be a mutual relationship in which both cities have the opportunity to benefit from one another," senior Kyle Howard said.
Both communities share a value for nature. In Essex, Norsey Woods is a local nature reserve that goes back to the Bronze ages. To strengthen and inform people about this, the woods in Billericay were named in honor of Billericay in Essex.
On March 31, 2003 the Town of Fishers dedicated the park to commemorate the newly established relationship between the two communities. Billericay Park in order to commemorate the relationship between the two communities. There is a plaque stating these facts located within Billericay Park, which was provided by the Fishers Rotary Club.
Being a sister city does not necessarily mean a lot will be noticeably different from visiting Billericay Park when compared with other local places in fishers. Also known as "twin towns", participating in the Sister Cities International program would not necessarily change the aesthetics of the two joined communities, but rather a sharing of culture and information about education, economics and other relatable topics would happen so an understanding of how multiple places handle similar situations.
"Fishers is a smaller area and a lot of people don't know what is outside of our community," senior Sarah Bumps said. "It is important to bring some of that culture into Fishers and to expose the people to different horizons of the world."
The Renaissance Faire in Fishers is a primary example of one way in which Fishers spreads the cultural history of Billericay. This festival celebrates the historic times that occured in Billericay, bringing life to the once thriving traditions of the sister city. Every year, the faire takes place in October, and will be on October 5 and 6 from 6AM-10PM this year.
Leave a Comment
About the Contributor
Sam Bauer, Reporter
Samuel Bauer is a current senior. He is involved with sports, namely soccer, and academics, and has a passion for photography, film, and science which...