HSE School Board should protect LGBTQ+ students, staff from discrimination
Every student is entitled to an education, every person is entitled to the opportunity of equal employment, and every person is entitled to receive respect regardless of race, religion, etc. There are students and staff who are currently not being protected by our nondiscrimination policy. The HSE School Board voted on Wednesday, April 24 against adding all-inclusive terminology to the current anti-discriminatory statement to include LGBTQ+ students and staff in a 4-3 vote.
Our current policy states that our district will not discriminate on the basis of race, color, religion, sex, national origin, age or disability in its educational programs or employment. Federal law and Indiana state law does not currently cover sexual orientation or gender identity in employment discrimination or in school settings.
LGBTQ+ students and staff are not included in our statement, meaning they are not being protected by our school district. Every student and staff member in our district should be protected. While most of them fall under other categories currently listed as part of our policy, they can still be discriminated against because of their LGBTQ+ status.
The policy committee wants to improve the 19-year-old nondiscrimination policy and school board member Julie Chambers moved to amend the policy to be inclusive of all students and staff. Her amended statement read: "This school corporation does not discriminate in its educational or employment activities on the basis of race, color, national origin, sex, including transgender status, sexual orientation, and gender identity and expression, disability, age, religion, military status, ancestry or genetic information, nor on any basis prohibited by applicable federal or state laws."
Seniors Jason Nguyen, Logan Faircloth and juniors Jace Hughes, Mia Morales and Khadijah Guisse and junior high student Alec Chrisman were at the board meeting helping fill the room, as well as community members, students and parents who wanted to make public comments and show their support of change on the posted agenda item 6.07 Policy G02.01/A02.00 – Nondiscrimination/Equal Opportunity.
At the end of the discussion, board member Sylvia Shepler asked questions about transgender students (April 24 Board Meeting Video 2:01:20), questions she did not want answered by willing board members Chambers and Michelle Fullhart. Her questions revealed her personal bias against the addition.
Shepler rhetorically questioned why there are more transgender people in our society today than ever before and why they are being accepted as transgender and not being diagnosed with gender dysphoria. She asked if there was anything that can be done to prevent the trend of being transgender, a trend she claimed influenced by social media, as she feels it is more popular to be anything but straight. Finally, she suggested that mental illness was a cause of someone being transgender.
After hearing students' pleas for help, Shepler chose to ignore them and express her personal opinions on gender identity and sexual orientation to the board instead of talking about the protection of all students within our district, even those who are LGBTQ+. Instead, she chose to turn her back on those students and focus on her beliefs. Her comments at the end of the discussion were unnecessary and by all means offensive to the groups currently excluded from our statement. We cannot afford to have that bias on a public school board.
"If your opinion in this vote is based on any personal or religious beliefs, I ask you to set those aside because they have no place in a public school system," Chambers said. "We take every student as they come to us and we have to protect them, regardless of your own personal beliefs on these issues."
We are a diverse public school system. Public schools have diversity in both students and staff of different ethnicities, backgrounds, financial statuses, genders, ages, religions, health conditions, disabilities and sexual orientations and identities. That is a fact that exists regardless of political opinion, and it is unchangeable. Discrimination occurs when the non-discrimination policy fails to mention certain groups of people.
While I understand some people in Fishers do not understand the LGBTQ+ community, they are present in our community and in our schools and they are not going anywhere. They are students, they are staff, and they deserve to be acknowledged and respected regardless of personal opinions. Mayor Fadness has even added to the conversation in a statement made on Friday, April 26.
"It is my hope and [ I ] ask that the HSE School Board will enumerate those most vulnerable in their anti-discrimination policy and bring us one small step closer to a more complete community," Fadness said.
School board members should look out for all students and staff members and ensure their safety. That is their job, and if they cannot set aside their prejudices to protect all students and staff then they should not be on the board representing everyone in our school district.
One of the points made by Shepler and school superintendent Dr. Allen Bourff was that there are currently three cases being handled by the Supreme Court regarding this issue, meaning that case law could be made in the future, no later than June of 2020, requiring this to be included in all anti-discrimination policies across the country.
This point implies that this does not need to be taken care of in our school district right now, but there is no reason to wait for a law to be passed or a decision to be made by our Supreme Court when the school board has the power to protect some of our most vulnerable students now.
"Why wait? Why not have the policies for when they are being bullied simply because they are gay, bi, lesbian, trans, etc.?" Nguyen said in reference to the young students he works with through cadet teaching. "Why not have these policies to have them feel protected or even having to save a life. Without it, they will feel alone. They will feel like their voice doesn't matter and maybe even tomorrow we will not hear that voice again" (April 24 Board Meeting Video 11:20).
According to the Human Rights Campaign Foundation's 2018 LGBTQ Youth Report, only 26 percent of the 12,000+ students asked from all over the country said they always feel safe in their school classrooms. Only five percent said all of their teachers and school staff are supportive of LGBTQ people.
Students have spoken out and are asking the board to make this change due to issues within our district. Yes, this could be a national discussion, and there may be case laws in the future, but that is not why it was brought up for discussion at a school board meeting. This lack of clarification in our policy is affecting our students and our staff right here, right now.
"Since kindergarten, we are told by our parents and teachers to be ourselves. To embrace and be proud of ourselves," Faircloth said. "To help others and stand up for those who are the most vulnerable. How do you do this when you do not feel safe? How do you learn when you do not feel safe?" (April 24 Board Meeting Video 18:36).
The second half of our current nondiscrimination statement solely lists all the Indiana State Laws and U.S. Laws that require non-discrimination policies regarding specific groups of people. It was implied at the board meeting that until there is U.S. law requiring LGBTQ+ people to be acknowledged in a non-discrimination policy, they would not like to include it. It is inexcusable that until a federal law requires our school district to acknowledge these groups in our anti-discrimination policy that the board feels that it is unnecessary to include and protect them, especially when those students are asking for protection.
"Inclusivity should not be a political issue, but a human right," Hughes said.
Hughes could not be more correct. Students attend school to be educated and to learn, not be harassed and ridiculed. Perhaps it is some of our school board members who require a better education on how to protect every student and staff member within their district through the policies they were elected to create.
View Comments (3)
About the Contributor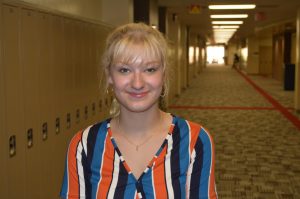 Katie Wiseman, Reporter
Katie Wiseman is a senior at Fishers High School and this is her first year on newspaper staff after taking photojournalism her sophomore year. In her...