Fishers Sports Network broadcasts fashion show due to COVID-19
Around this time of year, Fishers High School is known for one thing- the Riley Dance Marathon. Between the fun events leading up to the dance marathon and the final fundraising total reveal, students and staff rally together every year to make this event a great one. However, with the presence of the COVID-19, there have been some setbacks for the executive board.
This year, Fishers Dance Marathon held its sixth annual fashion show, where students and Riley kids wear outfits from some of the dance marathon sponsors and walk the runway to raise money for Riley Children's Hospital. With the spread of the coronavirus, the executive board made the decision to not allow people to come to watch the event. Instead, Fishers Sports Network broadcasted the event, allowing people to watch the event from home and donate to a link posted with the broadcast.
"By broadcasting the event and still giving people the opportunity to donate, we made an additional $800 to go towards our total," junior fashion show participant and executive board member Shea Koley said.
This change was not only beneficial for Fishers Dance Marathon. It also allowed FSN to get some experience with broadcasting events not involved with sports. According to senior FSN member Michael Brunt, he and senior Niso Kapsalis had the idea to help Fishers Dance Marathon by broadcasting the event, which also allowed them to get some more experience with the equipment.
"We didn't say anything over the live stream since we were in the show," Brunt said. "We just used it to broadcast the fashion show live."
Without a live audience at the fashion show, Koley said that it felt weird, but that they still made the best of the situation. She knew that they were raising money for a great cause and that the Riley kids were having a great time, and that was all that really mattered to her, the executive board and the rest of the models.
"Any money made for the kids will change their lives for the better," Koley said.
The executive board made the decision to cancel the Fishers Dance Marathon that would have taken place on March 20, but they are hoping to have a total reveal before the end of the school year.
Leave a Comment
About the Contributor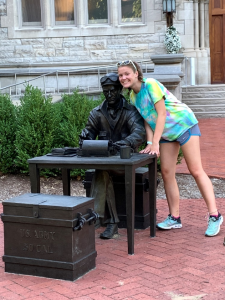 Riley Gearhart, Social Media/Unity Director
Riley Gearhart is a senior at Fishers and the social media and unity director of the newspaper. Riley runs cross country and track and loves to spend time...