Students address emotional health as isolation continues
Quarantine started about six weeks ago, and ever since then people across the world have been focusing on their health. They have been washing their hands, staying at home to flatten the curve and avoiding regular activities. 
Being put in isolation for six weeks now, though, puts a toll on individuals. With physical health as the target, it is easy to forget about mental and emotional health. Every person reacts to trauma in different ways, and the same is true for COVID-19. 
"The act of not being able to go out and hang with people gets you," junior Abby Funk said. "It's not bad the first couple weeks, but it just seems to keep dragging on even with FaceTime and texting."
Poor emotional health due to isolation makes people feel as if they have no control and are disconnected from the rest of the world. The American Psychological Association says that isolation carries many health risks, as well, such as poor sleeping patterns, low immunity levels, depressive symptoms and impaired executive functions. 
The reason people are struggling with their emotional health, according to VeryWellMind, is that being in quarantine impacts three key elements of mental health: autonomy, competency and connectedness. These three elements make up the components of what motivates a person. Without them, it is easier to feel unproductive, restless and unfocused. 
Without autonomy, emotions tend to come in waves. Junior Sydney Brown has been trying to understand that every day is different and that her emotional health can change from day to day. 
"There are days where I'm feeling really productive and will get a lot done, and others where I don't feel like doing anything and lay around," Brown said.
Just as every person has their own emotional health, every person has their own way of dealing with their emotions in this time and keeping themselves emotionally healthy. Finding a way to cope, takes experimenting and figuring out what works for each individual. 
Junior Elaine Murphy has been monitoring her news intake to prioritize her mental health. She has been trying to watch the news on TV and only look at news periodically online to give herself a break from the looming crisis. 
"I think it is important to be educated on what is going on, but not be obsessed over every change," Murphy said. 
There are many other ways to prioritize mental health. Murphy sometimes copes by painting and doing yoga to help herself relax. Funk has been relearning instruments to keep herself occupied and productive, while Brown listens to music and gets exercise to have some fresh air. 
The Center for Disease Control (CDC), Daily Health Wire and many other mental health websites have more suggestions for how to better cope with isolation and mental health. Their suggestions include establishing a daily routine, finding activities that give purpose to the day and communicating with people. They state that keeping a positive outlook at a time like this can be hard, but possible. 
"Although this is a very stressful time there are some good things to come out of it," Murphy said. "I think about how the earth has benefited from less pollution. I think quarantine has definitely made me more grateful for everything I have."
Leave a Comment
About the Contributor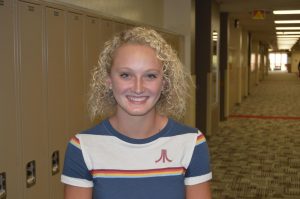 Grace Mossing, Editor-in-Chief
Grace Mossing is a senior and Editor-in-Chief of N the Red. She loves traveling, being outdoors, diving, and hanging out with friends, and she is very...