Staying safe while supporting local businesses
With over 25 million cases to date globally, the COVID-19 virus reaches new heights and influences the growing demand of face masks. The coronavirus is not only affecting people's lives, but it is also influencing their businesses.
"We had two locations at the start of this. We had a location in Broad Ripple, and we had our Fishers location," Jamie Thompson, an employee at local boutique "State of Grace", said. "Unfortunately, due to the pandemic and just the state of Indianapolis in general, we did have to close our Broad Ripple location."
State of Grace
This local boutique is located in the outlet of stores right off of Olio Rd. in Fishers. The boutique has a variety of face masks with fashionable designs. These masks have adjustable straps as well as a filter pocket. There are all types and sizes, even for children, with the adult face masks costing $10. 
"Here in Fishers, we are still thriving. We've got a lot of very very good regular customers," Thompson said. "We have a strong online presence and business has been really good. We've been very supported here."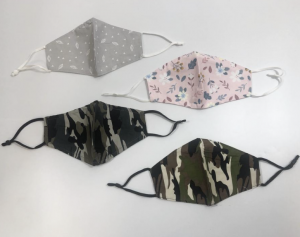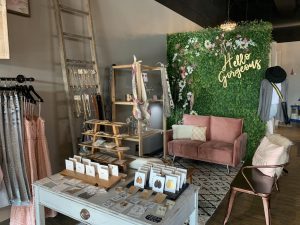 Dottie Couture Boutique
Located on River Crossing Blvd. in Indianapolis, the store has a variety of prices of masks at the boutique ranging from $6-$16. The masks are cotton and come with designs featuring flowers to rainbows to tie dye and camo. Dottie Couture sells kids' masks as well. 
"We definitely have a very wide range of patterns for our masks," employee Hannah Ferguson said.  "They have different types of ear things to go around your ear, some of them are more elastic and stretchy and some of them are just the cotton fabric but they are all pretty soft on your face."
Curve and Cloth
Curve and Cloth is located at Hamilton Town Center in Noblesville and is focused on selling clothes that are based on their website,  "trendy and affordable curvy (XL-4X) and empowering fashion for women" 
The boutique recently opened in June, after the state began to allow malls to reopen. The masks have been part of the store's inventory since its opening. The masks' prices vary but the thin cotton designed masks are $12.99 and the store has a variety of designs and thicknesses of their masks. 
"I recommend people wash them [the masks] before putting them on your face right away but you can pick it up, touch it and see it and you're not just pulling it out of a plastic thing or not knowing if it's going to fit or not," employee Savannah Tagua said.