Golf team adjusts to added mental challenges
While some sports have been forced to make changes to competitions and practices, golf has been able to stay true to the nature of the sport while making minor adjustments. Some of these changes include wearing masks on the putting green and social distancing while walking from hole to hole. Even with these minor differences, many still find golf to be a mental test.
Junior varsity golfer Lillian McVay knows the challenge that golf presents. When faced with a pressure-packed situation, she has a strategy to work with stress.
"It can be really difficult to keep your head straight," McVay said. "But some ways I keep strong is to have a short memory and forget about what has happened or challenge myself to make up for my past mistakes."
Dealing with the mental aspects of golf is not easy for some golfers to learn. That is why it is important for head coach Daniel Smith to help during limited coach-to-player interactions.
"It's a little bit easier for golf," Smith said. "Because we're already outside, we're able to social distance and prepare well."
Despite the fact that golf has had to alter its play less than other sports. It still has that mental aspect, this being the fact that players have to play through the course alone and keep a strong mentality while playing so the team can succeed.
"We try to get them to realize that, even though they are playing for their own score, their scores all still add up to the team's score," Smith said.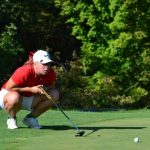 McVay scored an 82 at sectionals and is heading to regionals. The rest of the team did not advance. McVay attributes part of her success to Smith.
"My coach and I have a really good bond," McVay said. "We generally talk about the course rules and things I would need to know. We also talk about my game plan and how to keep my mental game on track."
Regionals will take place on Saturday at 9 a.m. at Edgewood Golf Club in Lapel.