Baking becomes a popular Christmas tradition
It was weeks before Christmas and in every kitchen, cookies were baked, causing sugar addictions.
The holidays are around the corner, and some families celebrate together with annual traditions. With Christmas being the most popular holiday in the United States as written by The Guardian, people have found many different traditions to celebrate. Making Christmas cookies is among the most popular of these traditions, according to The Oprah Magazine. 
Sophomore Annalise Roach makes Christmas cookies every year with her parents, grandparents, sisters and cousins. Together, her family bakes thumbprint cookies and sugar cookies that she decorates with her cousins.
"We get some of our recipes from the internet, but we also have a family cookbook which has a bunch of different family recipes that were passed down," Roach said.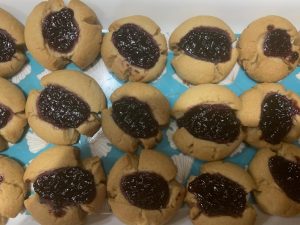 Thumbprint Cookies
Recipe makes about two dozen cookies
Ingredients
1 cup softened butter 2 ¼ cup flour
⅓ cup sugar 2 teaspoon cornstarch
⅓ cup light brown sugar ½ teaspoon salt
1 large egg yolk ⅓ cup jam or preserves (flavor of your choice)
¾ teaspoon vanilla extract
Instructions
Place butter in a bowl and beat with an electric hand mixer until creamy.

Add sugar and light brown sugar and beat until ingredients are well-combined.

Add egg yolk and vanilla extract. Beat well.

Whisk flour, cornstarch and salt together in a separate bowl.

Gradually add and mix dry ingredients with wet ingredients until completely combined.

Scoop cookies into 1 tbsp-sized balls and roll well.

Place balls onto a wax paper-covered plate and use your thumb to gently press an indent in the center of the cookie dough.

Transfer cookie dough to the freezer and chill for 30 minutes.

Once the dough is done chilling, preheat the oven to 375 degrees.

Place jam or preserves in a microwave-safe bowl and heat for 5-10 seconds in the microwave.

Spoon jam in each thumbprint.

Place cookies on a cookie sheet two inches apart and bake in an oven for 11 minutes.
Senior Jack Bakle gathers with several of his family members every year to celebrate the holidays. His aunts, uncles, cousins and grandparents come to his house to celebrate their annual traditions as a family.
"We watch Christmas movies, put up the Christmas tree and decorate it together, go to church on Christmas Eve and we all make Christmas cookies together," Bakle said.
The tradition of making cookies every year has been in Bakle's family for as long as he can remember. He and his family make cookies such as peanut butter blossoms, sugar cookies and hermit cookies that have oatmeal, raisins, and herbs in them. Bakle says that no one in his family likes these cookies other than himself and his grandfather, but his family continues to make them every year.
"The recipe for the hermit cookies came from my great-great grandmother from Germany," Bakle said. "It's a tradition that we like to keep alive."
Hermit Cookies
Recipe makes about 4 ½ dozen 2-inch cookies
Ingredients
1 ½ cup flour ½ cup butter
2 teaspoon baking powder 1 cup sugar
½ teaspoon salt 1 egg
½ teaspoon cloves 1 teaspoon vanilla
1 teaspoon cinnamon
1 teaspoon allspice
Instructions
Sift all dry ingredients (not including sugar) together in a bowl.

Cream together all wet ingredients (including sugar) in a separate bowl until fluffy.

Add dry ingredients alternately with milk and mix well.

Add raisins and nuts. Mix lightly.

Drop teaspoonfuls of batter two to three inches apart on a well-greased baking sheet.

Heat oven to 350 degrees and bake cookies for 10 minutes.
Freshman Elise Bryan and her family also make German cookies, called pfeffernusse cookies . Bryan's family used to live in Germany before she was born, which was what started the tradition.
"[My mom] started making these because they were the traditional Christmas cookie in Germany when they lived there," Bryan said. "When they moved back, she kept making them every year since my whole family loved them."
Among their other family traditions, like going downtown to the City Circle to see the lights and waking up at her grandparents' house on Christmas morning, making the pfeffernusse cookies has been a way for Bryan and her family to stay connected to Germany.
"Since my family lived in Germany, they were trying to embrace the culture," Bryan said. "My mom makes them every year now to remind my older siblings what it was like when they were in Germany."
Pfeffernusse Cookies
Recipe makes about three dozen cookies
Ingredients
2 ¼ cup flour ¼ teaspoon salt
¾ teaspoon cinnamon ½ cup unsalted butter
½ teaspoon allspice ¾ cup light brown sugar
½ teaspoon nutmeg ¼ cup unsulfured molasses
¼ teaspoon black pepper 1 egg
¼ teaspoon cloves 1 teaspoon anise or vanilla extract
¼ teaspoon baking soda ½ cup powdered sugar
Instructions
Mix flour, cinnamon, all spice, nutmeg, black pepper, ground cloves, baking soda and salt together in a bowl.

In a separate bowl, beat butter, brown sugar and molasses on medium speed until fluffy. Beat in egg and anise/vanilla extract until combined.

Slowly mix the dry ingredients with the wet ingredients until combined.

Wrap dough in plastic wrap and place in the refrigerator to chill for three hours.

Preheat the oven to 350 degrees.

Scoop about a tablespoon of dough and roll into balls. On a baking sheet lined with parchment paper, place the rolled dough about two inches apart. Bake cookies for about 15 minutes.

While cookies are slightly warm, roll them in powdered sugar.
If you have any Christmas cookie recipes that you and your family like to bake, leave a comment with your recipe below. To share pictures of your cookies with us, post a picture on Instagram and tag @fhs__nthered for a chance for your recipe to be reposted.