The fans' capabilities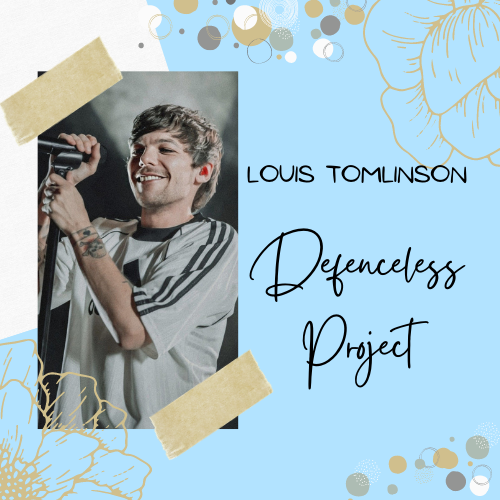 Fans from all over the world come together to support their favorite artists, such as Louis Tomlinson and Niall Horan, by creating fan projects in order to show appreciation and get the artists' lesser known music out there. Two of the more recent fan projects were the Defenceless fan project to get Louis Tomlinson's song, Defenceless, on the charts and radios and the Heartbreak Weather fan project to celebrate the one year anniversary for Niall Horan's second album, Heartbreak Weather, by streaming one of his lesser known songs. 
"I think that it's so cool  just to see how people come together across the world to show appreciation for someone they have a common love for," freshman Delaney Grider said. 
On Feb. 4, 2021, the hashtag, 'Defenceless,' was trending on Twitter. The hashtag was used to get a fan project idea circulating within the Louis Tomlinson fanbase. The idea was to stream one of Louis' songs, Defenceless, until it got on the charts, streamed on radios, and became more recognized in the music world. Fans created a page's worth of activities fellow fans can undertake in order to allow the song to circulate and get the acknowledgement they thought it deserved. 
"I heard of it [the project] on Twitter and TikTok," Grider said. "I did [participate in the project], I listened to the song throughout the day and I streamed it on Spotify and Apple Music."
Due to the efforts Louis Tomlinson's fans put into raising recognition towards the song, Defenceless got number 32 on the United Kingdom's top 40 songs on Feb. 4, 2021. Furthermore, Defenceless achieved number 19 on the top 100 charts on Feb. 19, 2021 and number one on the worldwide iTunes charts. Not only did the song reach prominent spots on three different charts, but it also was streamed on local radios due to the fans' requests for their radios to play the song and people outside of the fandom were interested in the song and the artist himself. Even the artist, Louis Tomlinson, recognized the fans' efforts and achievements and tweeted "I see what you're doing with defenceless! You are all incredible!" 
"I think they [the fan projects] were pretty successful because I think we got it to number one on the charts," Grider said. "It was just so cool to see and I definitely think they were successful in bringing people together and just having such a cool experience with everyone."
Afterwards, on March 13, 2021, another fan project erupted for Niall Horan's year anniversary of his second album, Heartbreak Weather. The idea for this fan project was to stream what was thought to be a more underrated song on the album, Arms of a Stranger. The purpose for streaming an underrated song was to also gain more recognition for his less mainstream music. The hashtag 'ProudOfNiall' was trending on Twitter on that day to congratulate Niall but also promote the fan project. 
"I love to see how well artists can bring people closer together, like Niall," sophomore Tina Atmani said. "His fans got together to make him happy which I find amazing. It's something that can help bring people closer to each other and it's like a reward for artists and influencers."
Fan projects aren't a new thing. Before the COVID-19 outbreak, fans would create plans to either throw flowers on stage for their favorite artists, create certain posters, signs, or murals in the audience, or start singing a song that meant something to the artist when it wasn't a part of their set list. Nor are fan projects an old thing, either. Fans are coming up with ideas to help support their artists through the pandemic and even have ideas for when the pandemic dies down and going to live concerts are permitted, again. 
"I think there was one One Direction concert, specifically, where all the fans held up different colored tiles, and they made a huge mural type of thing in the audience and One Direction was completely surprised," Grider said. "For Harry Styles, I've heard there's specific talk of people throwing sunflowers on stage if he performs Sunflower, Vol. 6 at a concert."
Not only do fan projects support the artists, themselves, but it allows fans from across the world to come together and participate in something, as a fanbase, to show appreciation for their favorite artists. 
"I've noticed in a lot of fanbases, people don't usually get along when there aren't any projects of some sort, and I think with more fan projects it'll open up more opportunities," Atmani said. "There's so much negativity right now and I think getting together and making projects would be beneficial to not only the celebrity or influencer, but to the fans also."
The commonality of fan projects aren't too high since there have only been a few prominent ones. However, fan projects allow for less mainstream music to become more publicized, shows the appreciation fans have for their favorite artists, and brings people with common interests closer together. 
"I do think they should be more common, because everybody across the world obviously has different interests and stuff but it's cool to see everyone come together with a common interest and show appreciation for one person," Grider said. "A lot of the times, artists will show appreciation for us, but I think it's especially cool to see, after a specific artist wins something, everyone be so proud of where they've come."