Students react to recent dress code alterations
     As any school year begins, certain procedural changes are made to reflect the new circumstances of the year. This year, changes to the school dress code have students talking about the concept as a whole.
     "The student opinion, from the girls that I've talked to, is that the dress codes are sexist, and it's stupid that we have to cover up for the male eye," junior Leah Bedwell said.
     This sentiment is one that seems to be shared by many members of the school, in particular those who have been directly affected. 
     "I think, generally, people either don't care because it doesn't affect them, or they have negative opinions because they think it's unfair," senior Claudia Eichenauer said. 
     The dress code for the 2021-22 school year looks, for the most part, identical to the one used in previous years. However, school administrators believe they have worked to "de-gender" the language of the guidelines to apply to all students, a fact that some are skeptical of.
     "You can say that something is de-gendered, but that doesn't mean that it is," Eichenauer said. "Just because you change the language doesn't mean that it suddenly becomes a gender-neutral dress code."
     In recent years, dress codes have become somewhat controversial, with a Georgia teenager making headlines just last w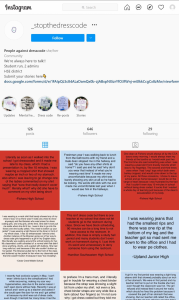 eek for protesting her school's "sexist" dress code. 
     "I think it's teaching girls that their bodies are objects and that they're a distraction," Bedwell said. "Instead of punishing the women, teach men to not overly sexualize a normal body part to the point where they apparently can't function in class."
     Due to the increased attention that has been given to the topic since the beginning of the school year, several social media movements have been created urging students to participate in protests against the rules. This has caused students to reimagine the concept as a whole.
     "If I could change the dress code, I would just ask that women stop being sexualized and be allowed to wear what they want," Bedwell said.
     When a student receives a dress code violation, they are sometimes notified during class, a process that Eichenauer believes is more harmful than helpful.
     "I have seen people get pulled out of class [for being dress-coded], which disrupts the whole class, not just them," Eichenauer said.
Although the recent changes have drawn both support and admonishment, Bedwell questions whether the debate is worth having at all.
     "I really don't get why girls are dress-coded for simple crop tops," Bedwell said. "Adults make the clothes into a bigger deal than they actually are."
Leave a Comment
About the Contributor
Fletcher Haltom, Opinion Editor, Copy Editor
Fletcher Haltom is a senior and a third-year staff member. He loves music, being outdoors and writing.