Trick-or-treating age restricted
     As the Halloween hour approaches, trick-or-treaters wait in anticipation to show off their costumes and collect delicious treats. For some kids, this will be the last year for trick-or-treating, but how old is too old? 
     Officials in Chesapeake, Virginia, have decided 14 years of age is the cut-off for trick-or-treaters. Other towns like New Brunswick, Canada, passed a law to prohibit kids 16 and older from going out with costumes to trick or treat. 
"I've done it every year since I was probably six," junior Maddy Crossman said. "I won't be doing it this year because I have plans, but it's fun. Why wouldn't you go out?"
Laws like the ones in Chesapeake are a result of violence on Halloween night in a neighboring town in 2017. The intention is to keep younger kids safe. Older teens can accompany another trick-or-treater, but they are not allowed to wear a mask. In some towns, if they are caught trick-or-treating they can be issued a ticket of up to $100 and a misdemeanor – or even 6 months in jail. 
"If you let your kid walk around the neighborhood alone, I think there is a risk either way." senior Emya Upshaw said. "I think it would be weird to have a 60-year-old trick-or-treating, but I would still give them candy." 
In a poll conducted by Today, around 73% of people agreed that kids should stop trick-or-treating between the ages of 12 and 17. Parents become concerned once it becomes later in the day, but walking with an older sibling or parents could help keep the trick-or-treaters safe. 
"I think siblings can go if they are just watching their siblings," Upshaw said. "That way you could protect them from teens or strangers."
Today offers ways to keep teens safe with helpful tips on Halloween night. 
Choose a costume that isn't too scary.

Don't come knocking at 11 p.m.

And be polite.
Leave a Comment
About the Contributor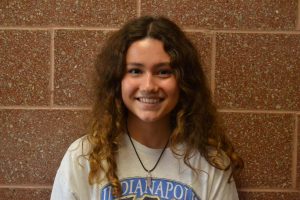 Kristen Rummel, Design Editor
Design editor Kristen Rummel is a junior and loves her family and friends. She's played sports like soccer, track, and cross country.