Mask mandate reversal a puzzling mistake
Nate Albin is a senior and a reporter  for Fishers Tiger Times. His views do not necessarily reflect those of the newspaper. 
     It is like we do not care to learn from the past.
     On Tuesday, HSE Schools announced that wearing face masks will be optional at the start of next week. With a statewide decline in COVID cases, many schools, including other Hamilton County district schools such as Carmel, Noblesville and Westfield, have decided to drop the mandate as well.
     If this policy sounds familiar, that is because it is exactly what HSE Schools started out the school year with. To put it plainly, it did not go well. After a week and a half of optional masks, an uptick in cases caused the mandate to be put in place here as well as in most of the other schools that started out mask-optional.
     Here is the first big issue: the City of Fishers COVID Dashboard's graph of overall cases illustrates that the current number of cases that is deemed low enough to remove the mandate is comparable to the number of cases deemed high enough to enact the mandate. One key difference is that the increase in cases in August was following a summer with very few daily cases, while this current situation is following the largest peak of COVID cases in Fishers history. On top of this, despite declining cases, we are still deemed to be in the red, "severe community risk" category.
     There is also the common misconception that we are in the homestretch of the pandemic. The latest variant, Omicron, was different from previous variants. While other variants like Delta are more deadly, Omicron is less likely to cause severe illness, but is much more transmissible, even to those who are vaccinated. Northeastern University projected Omicron to have a more rapid peak in the U.S., and CDC scientists told NBC that they are "optimistic" about case numbers going down, suggesting this peak may be passing. However, this does not mean the pandemic is over. David Nabarro, World Health Organization (WHO) Special Envoy on Covid-19, said that Omicron is hardly the last variant. There will be more, and if Omicron is any indication, future variants could be even more communicable. Until we are to a point where we can safely say that the threat of future variants is low, unmasking in buildings that have over 3,000 people seems naive.
     By undoing the mask mandate, we also are unleashing the threat of an unvaccinated population contracting and spreading it. At this point, the science is simply undeniable. The Mayo Clinic, Johns Hopkins University, the CDC and every other reputable medical institution says that they are the single most effective counter we have to COVID, and that they are safe. At this point, not getting vaccinated is simply a stubborn denial of fact and a blatant disrespect for others' health. Yale Medicine explained that in order to achieve herd immunity, the point where enough people are vaccinated that a virus is unlikely to spread, we must reach a certain threshold of the population that is vaccinated, but it is not known what the "magic number" to attain it is. Early predictions were around 70%, which is where the Fishers community currently is, but Yale found it could be closer to 85-95% before we could achieve herd immunity. We are not to that threshold yet, but we are giving the okay to allow people to walk around without a mask regardless of vaccination status. It is especially bad when you consider that the age range of 5-17, the age of school kids, is only about 50% of the population in Fishers who is fully vaccinated. Harvard University, Northeastern University and Northwestern University as well as other top universities conducted a study that found only 66% of the unvaccinated are willing to wear masks. If around half of the school is unvaccinated as the numbers suggest, that means that, theoretically, roughly one in every six people will be unvaccinated, unmasked and at high risk of getting sick and spreading the virus.
     Imagine this: You are a football player who plays without a helmet. Your risk of sustaining a head injury is higher than if you wore a helmet. So, you put on a helmet and your risk of injury goes down. Even though the risk of injury is now lower, you cannot take off the helmet again and expect to be safe. Not having a mandate in August was not the best idea, but undoing a mandate now that actively keeps us safe is another step in the wrong direction. We are raising the risk of a serious illness being spread. We have worn masks for more than five months this school year, and we can wear them for three more to ensure a safe finish. It makes no sense to end a mandate that was helping and is an unnecessary risk that puts our school year in danger.
View Comments(1)
About the Contributor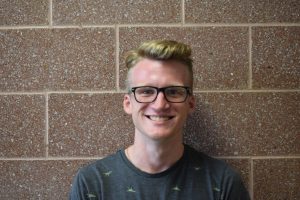 Nate Albin, Editor-in-Chief
Nate Albin is the editor-in-chief of Fishers N The Red. He runs on the cross country and track teams for FHS as well as serving as a student body officer....