Sparking the city
    As residents of Fishers, people have the opportunity to enjoy their freedom on a deeper and more meaningful level through the events of Spark!Fishers. The festival celebrates Independence Day in advance through a series of activities such as a 5K run, a street fair and a parade. This allows residents to appreciate the holiday while also being able to create closer connections with their community. 
    "[Spark!Fishers] is for the residents of Fishers to have the ability to forget about everything else that's going on in the world and just come together as a city to celebrate the 4th of July ahead of time," Spark!Fishers event director, Gabe Amick said. "It's just a city celebration that culminates in a week-long festival."
    Spark!Fishers is an annual city-wide celebration that is hosted by the City of Fishers and Fishers Parks. It takes place the last weekend of June. The commemoration lasted for five days this year, from Tuesday, June 21 to Saturday, June 25. All the events that are a part of Spark!Fishers are surrounded near downtown Fishers and the Nickel Plate District.
    "I think the main location of Spark makes the event unique," junior, and volunteer for Spark!Fishers, Samaira Lee said. "I love downtown Fishers because it's so walkable and there are lots of things to do, which makes it great for summer events like Spark. Additionally, the amphitheater is so community-oriented and perfect for the festival."
    Spark!Fishers has a lot of planning that goes into it, so much so that ideas for the festival start as soon as February. This year, the council decided to host it for a full week as opposed to the normal two days in past years.
    "We started on Tuesday with a free concert, and then we will end it on Saturday with the street festival, with events every single night in between," Amick said. 
    Not only did Spark!Fishers expand by extending how long the celebration is, but also by adding more activities to the event to make it more interactive and exciting for guests. Furthermore, according to Amick, officials have seen an increase in interested participants.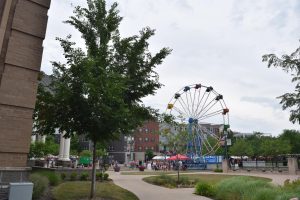 "So this year we've included a few more [activities] on Saturday," Amick said. "Our Ferris wheel's bigger than it was last year and we've relocated that to more in the middle of the footprint of Saturday's festival. The parade numbers are larger than what we've seen in years past. Sponsorship has been great this year from the businesses supporting the event."
    While expanding the festival has been beneficial for the event, it did take a lot of planning ahead to pull off. Some of the hardships were dealing with road closures, parking spaces for vendors, staff and volunteers and minimizing the festival's impact on local businesses. With a lot of traffic and rush in the area, another concern taken care of was the safety of the public.
    "When we look at doing the road closures, we try to look at the scope of what we're doing in the days that we're inconveniencing businesses and patrons," Amick said. "I would say that's been the hardest part of just trying to make sure that the impact that we're creating on these businesses is very minimal and that we are giving them options for them to continue to still run their business as normal, but with some parking changes.
    On Tuesday, June 21, a free concert was hosted for the public at the Amphitheater stage. It featured Fishers Music Works' White River Wind Symphony. This was followed by a 5K run/walk and a Kids Fun Run on Wednesday, June 22. The 5K run/walk had a new route this year, along the Nickel Plate Trail. The kids 30-yard dash took place before the run. Both were presented by IU Health Fishers.
    Next up was a ticket-free Car and Art show on Thursday, June 23. Put up by the Fishers Arts Council, it featured a record number of modern and vintage cars along with artists and artisans. 
    "We have exceeded our goal for the car and art show," Amick said. "We're looking at probably being at a hundred [cars and art pieces]. We've had a waiting list for that for almost two months now."
    The Car and Art show was followed by another concert on Friday, June 24. It featured Bruno Mars tribute band, Uptown Funk. On Saturday, June 25, a street fair was hosted. The fair included stalls with food, drink, retail vendors, artisans, and much more. There was also live entertainment on the Amphitheater stage. At the kids zone area, there were bounce houses, and more kids activities. There was also a teen zone with activities for teens to do, like table tennis and a skate park.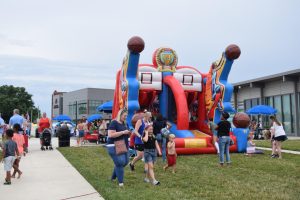 A parade was held during the same evening. It featured the cheer team of both the high schools in the district, along with local civic groups and organizations.
     "I think [the parade] is the best part of the event, most people are probably most excited about," Amick said. "We [usually] get a really good attendance for the parade. We have high school athletic teams, non-profits, police and the fire department there. It really is a culmination of the entire city coming together in one area for the parade, and you just get to see everything."
    Lee was one of the visitors who enjoyed the parade. Taking part in the parade was her favorite memory from Spark!Fishers this year.
    "I was with the company I am interning at this summer, Spokenote, and our founder was the Grand Marshall of the parade," Lee said. "It was super fun getting to run through the parade route handing out candy and my company's product."
    The lively and remarkable week ended with a show of fireworks on Saturday night. Shot from Holland park, visitors could enjoy the views from multiple areas surrounding the Municipal Complex.
    "We will have a firework show actually on the 4th of July as well, but I think this firework show is unique to this event," Amick said. "You watch [the firework show] from downtown, you watch [it] from the amp area, you watch [it] from the middle of the festival. It's just a very cool, unique atmosphere."
    The unique aspect of Spark!Fishers is the fact that there are multiple activities that are included in an overarching event for the city. This creates a sense of community and belonging within the residents of Fishers. 
    "There's something for everyone," Lee said. "Cars, art, music, Spark has it. I [also] think the parade and fireworks are a must for everyone."
    While Spark!Fishers can create an inclusive environment for their visitors through the plethora of activities, there are some consequences that come with the size of the celebration. This includes the amount of littering and waste that is produced during the festival. 
    "As for negatives, like all big events, Spark generates a lot of unnecessary waste, like all of the plastic utensils and uneaten food from food trucks," Lee said. "I hope that Spark promotes more environmentally friendly awareness in the future."
    One of Spark!Fishers biggest priorities, for now, is ensuring an enjoyable, easily accessible and safe celebration for visitors and the residents of Fishers. According to Amick, the festival is supposed to act as a week for people to disconnect from the problems they may be dealing with and have an opportunity to be around their community doing activities that can create memories.
    "I have a couple kids at home," Amick said. "Making sure that they have a cool event to come to is a motivation. Obviously, I'm a Fishers resident as well, so making sure that the residents [have] a really cool event that they can call their own, partake in and really enjoy themselves [motivates me to direct the celebration]."
Leave a Comment
About the Contributors
Malak Samara, Editor-in-Chief
Malak Samara is a junior at Fishers High School. She heavily enjoys law and loves to write, draw, read, listen to music, and hang out with her friends!
Veda Thangudu, Features Editor
Veda is the features editor and a junior at Fishers High School. She's excited for this year of newspaper.