Career conversations
Workers from the community advise seniors on post-high school plans.
   This year, the business department organized a new event for seniors at FHS. It was aimed to prepare seniors for their careers after high school.   
   "We wanted to give all the Seniors the skills and experiences that will help them not just in college but also in their future careers," teacher Jeremy Guler said. "Hearing from guest speakers in our own community, that are actually in the middle of their careers, just seemed like a logical solution to help prepare FHS students."
   Guler is part of the business department that helped organize this event. According to him, this is the first year they have put on something like this, but it will not be the last.
   "We also are planning to have a much larger career day in late March which will be in the gym and various places around the school."
   During the speaker sessions, students were able to pick from a variety of workers that would be relevant to their future plans. Some included a nurse practitioner, a firefighter, an FBI accountant and many more. 
   "I didn't pick the financial planner, but it was interesting just what his job is and how he does it whenever he wants and makes his own hours," senior Brielle Bourgois said.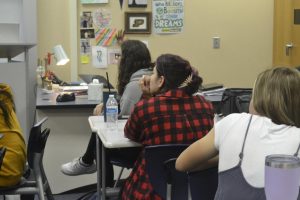 Seniors were able to listen to two different speakers during this session. Bourgeois claims that she chose the FBI accountant to listen to because she wants to study forensic psychology. 
   "I just thought it would be interesting just to see what it's like actually behind the scenes in the FBI, even if it isn't in the same field," Bourgeois said.
Leave a Comment
About the Contributor
Mia Brant, Reporter
Mia is a senior at FHS and enjoys ballet and working outside of school.