Baking kindness
Tutor club raises money for the celebration of giving.
   The holidays are coming up soon, which means that the yearly tradition of hosting fundraisers has begun and will continue into December. One such fundraiser was a bake sale that went on from Nov. 14 to Nov 22. Members of the FHS tutor club baked all sorts of goods for the sale in order to raise money. 
   "[The celebration of giving] raises money for underprivileged kids and gives them presents, clothes, and groceries," club president and senior Sankalp Srivastava said. "We wanted to raise $500 for the two children we are sponsoring."
   The members of the club do more than help students with schoolwork. They also spend time outside of school preparing for fundraisers that give back to our community. 
   "All of the tutors in the club baked the goods," Srivastava said. "It went fairly well we sold brownies, cookies, cupcakes, and more."
   Club officer and senior Hope Kellermeier hopes to raise even more money than last year for families in need. 
   "Last year we were able to raise around 500 dollars for our sibling group and we hope to do the same or better this year," Kellermeier said. "We are still working to meet that goal."
   For Kellermeier, being part of the tutor club means more than just giving back to those in need.
   "I was also a student in middle school that needed help but I couldn't find anyone to help that I could relate to," Kellermeier said. 
   Although the bake sale has ended, the fundraising has not. The club is putting on a different kind of fundraiser starting Nov. 28, where students are able to choose teachers to get pied in the face. 
   "We are still fundraising and are excited to see how this year goes," Kellermeier said.
Leave a Comment
About the Contributor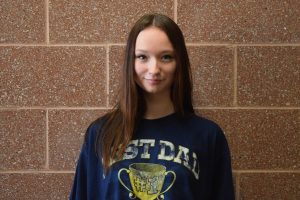 Mia Brant, Reporter
Mia is a senior at FHS and enjoys ballet and working outside of school.