Bowl season continues
Previewing and predicting the outcome of the remaining 24 bowl games
David Jacobs is a senior and a reporter for the Fishers Tiger Times. His views do not necessarily reflect those of the newspaper.
   After an impressive 72% prediction accuracy rating through the first 18 games. Looking ahead to the second half of the bowl games, we see a lot more firepower with the NY6 and College Football Playoff looming in the near future. So, let us get right into these predictions. 
Camellia Bowl
Dec. 27
12:00  p.m. EST
ESPN 
   After two straight stinkers, we are finally in for a good one here as 6-6 Buffalo from the MAC takes on 6-6 Georgia Southern. Georgia Southern has one of the best offenses in the country led by gunslinger Kyle Vantrease and running back Jalen White. Buffalo is mediocre on both sides of the ball but managed to go 5-3 in conference play compared to Georgia Southern's 3-5. The MAC does not have many quarterbacks like Vantrease and I think Georgia Southern wins in a high-scoring affair. Georgia Southern 41 Buffalo 31.
First Responders Bowl
Dec. 27
3:15 p.m. EST
ESPN
   A high-scoring offense going against one of the worst defenses in the nation is not often a recipe for a good game as 6-6 Memphis from the AAC takes on 6-6 Utah State from the MWC. Memphis' explosive offense is highlighted by quarterback Seth Henigan who distributes the ball well with four receivers over 400 yards. One bright spot for Utah State is their running back, Calvin Tyler Jr., who has over 1,000 yards on the season. Sadly, Tyler Jr. can only do so much on the offensive side and will not be able to help his struggling defense out. 
Memphis 44 Utah State 27.
Birmingham Bowl
Dec. 27
6:45 p.m. EST
ESPN
   Some things just are not fair, man. Coastal Carolina was 9-1 and their quarterback Grayson McCall was having a great year, throwing 24 touchdowns to just two interceptions, before he got ruled out for the year and back up Jarrett Quest came in and has just one touchdown and four interceptions in 43 attempts. East Carolina has the better quarterback playing and has a great running back in Keaton Mitchell. Although a different story when McCall is healthy, Quest just cannot win this team any games. 
East Carolina 31 Coastal Carolina 21. 
Guaranteed Rate Bowl
Dec. 27
10:15 p.m. EST
ESPN
   At the beginning of the season, this would look like quite an appealing bowl game, but in the present it is everything but as 7-5 Oklahoma State from the Big 12 takes on 6-6 Wisconsin from the Big 10. Wisconsin abruptly fired their coach mid-way through the season after a 2-3 start and interim Jim Leonhard did not do much better going 4-3. Oklahoma State is quarterbacked by the underperforming Spencer Sanders who is also second on the team in rushing. Sanders led the Cowboys to a 12-2 record last year, and on Dec. 27 I think we see some of that spark back against a helpless Wisconsin team who quickly needs to enter the Luke Fickell era. Oklahoma State 36 Wisconsin 28.
Military Bowl
Dec. 28
2:00  p.m. EST
ESPN
   Being excited about 8-4 Duke from the ACC and 9-4 UCF from the AAC is not something I thought I would say at the beginning of the season. Both teams have great point differentials and quality offenses. UCF relies on a trio of runners led by their quarterback John Rhys Plumlee with 840 yards followed by running backs Isaiah Bowser and RJ Harvey each with 760 yards. Duke airs it out a bit more with quarterback Riley Leonard who is also the teams leading rusher. It comes down to who will back down in a game where the two teams are essentially playing clones of each other. I have UCF winning a close one thanks to the extra legs of Bowser and Harvey. UCF 38 Duke 35.
Liberty Bowl 
Dec. 28
5:30 p.m. EST
ESPN
   Three weeks into the season I would have been much more excited for this game as 6-6 Arkansas from the SEC takes on 6-6 Kansas from the Big 12. Arkansas started 3-0 before going 3-6 for the rest of the season and Kansas had their best start since 2007 as they went 5-0 before going on a 1-6 stretch. Arkansas is led by quarterback KJ Jefferson who has 22 TDs and just four interceptions on the season as well as running back Raheim Sanders who has 1,400 rushing yards this season. Kansas has had backup quarterback Jason Bean in ever since Jalon Daniels got injured and Bean has done everything Daniels did except for the winning. Arkansas 31 Kansas 21.
Holiday Bowl
Dec. 28
8:00 p.m EST
FOX
   One thing I hate about bowl season is seeing really good teams get matched up with unranked teams. Fifteenth-ranked Oregon with a 9-3 record from the Pac-12 takes on 9-4 North Carolina from the ACC. Oregon has a top-10 offense led by quarterback Bo Nix who has 41 total touchdowns on the season. North Carolina has an offense that puts up 35 points a game quarterbacked by Drake Maye who has 4,700 total yards and 42 total touchdowns this season. This game will be won by the Oregon defense and a great outing by Bo Nix. Oregon 41 North Carolina 30.
Texas Bowl
Dec. 28
9:00 p.m. EST
ESPN
   When it comes to offensive production, this game between 7-5 Texas Tech from the Big 12 and 8-4 Ole Miss from the SEC will not be lacking any. Texas Tech relies on a committee of running backs and their choice of three viable quarterback options for every bit of their 33.6 points per game. Ole Miss is led by running back Quinshon Judkins who has 1,500 yards and 16 touchdowns as they pour in 34 points each outing. This has the scripture to be a shootout with close to 1,000 yards of total offense. Ole Miss 55 Texas Tech 48.
Pinstripe Bowl
Dec. 29
2:00 p.m. 
ESPN
   Now as we are still hungover from the point barrage that happened the night before, we get some cold turkey with what will be a defensive battle between 8-4 Minnesota from the Big Ten and 7-5 Syracuse from the ACC. Minnesota has a top-5 defense in the nation giving up just 13 points a game led by linebacker Mariano Sori-Marin and defensive back Tyler Nubin. The lackluster offense this defense has to lug around is highlighted by running back Mohamed Ibrahim who had 1,600 yards and 19 TD. Syracuse has a competent offense and defense with no eye-popping features. Minnesota 22 Syracuse 13.
Cheez-It Bowl
Dec. 29
5:30 p.m.
ESPN
   Why unranked 6-6 Oklahoma from the Big 12 is taking on thirteenth-ranked Florida State with a 9-3 record from the ACC is beyond me. If it were up to me, Florida State and Oregon would be playing in this time slot instead. With that being said, Florida State has a top-17 offense and defense led by quarterback Jordan Travis who has 22 TD and four interceptions on the season. Oklahoma is led by running back Eric Gray who has 1,400 yards and 11 TD this season. Oklahoma's poor defense will haunt them in this game. Florida State 37 Oklahoma 32.
Alamo Bowl 
Dec. 29
9:00 p.m. 
ESPN
   Twenty-first-ranked 8-4 Texas from the Big 12 takes on twelfth-ranked 10-2 Washington from the Pac-12. Quarterback Michael Penix Jr. led the Huskies to a top-five offense that saw him lead the nation in passing yards. Running back Bijan Robinson helped Texas pour on 35 each outing, but they were only able to string together consecutive wins twice all year. Look out for a big game by Penix Jr in this one. Washington 34 Texas 30. 
Duke's Mayo Bowl
Dec. 30
12:00 p.m. EST
ESPN
   This game is being played at noon before New Year's Eve and it radiates that energy. Twenty-fifth-ranked 8-4 NC State from the ACC takes on 7-5 Maryland from the Big Ten. Neither team has any overwhelmingly impressive players, except for NC State's top-15 scoring defense. I expect the Wolfpack to take care of business and pressure quarterback Taulia Tagovailoa throughout. NC State 31 Maryland 23.
Sun Bowl
Dec. 30
2:00 p.m. EST
CBS
   The Sun Bowl may not be as shiny as advertised as eighteenth-ranked 9-3 UCLA from the Pac-12 take on 8-4 Pitt from the ACC. UCLA has a top-10 scoring offense that relies on running back Zach Charbonnet and quarterback Dorian Thompson Robinson (DTR). Pitt has little to no passing threats, but they rely heavily on Israel Abanikanda who has 1,400 yards and 20 TD on the season. DTR and Charbonnett are just going to be too much firepower for this Pitt team. UCLA 38 Pitt 24. 
Gator Bowl
Dec. 30
3:30 p.m. EST
ESPN
   Alas, we get another matchup between two ranked teams as twentieth-ranked 8-4 South Carolina from the SEC takes on nineteenth-ranked 8-4 Notre Dame. Both these teams had an identity crisis during the season, Notre Dame started 0-2 after being ranked in the preseason top-five before finishing the year 8-2 with wins over Clemson, Syracuse and BYU. South Carolina started 1-2 before going to 5-2 then dropping to 6-4 before they knocked off Tennessee and Clemson in back-to-back weeks. Quarterback Spencer Rattler has been playing better for the Gamecocks, but Notre Dame quarterback, Drew Pyne, has been consistent all year. I will take the hot hand in a close one. South Carolina 30 Notre Dame 27. 
Arizona Bowl 
Dec. 30
4:30 p.m. EST
Barstool
   It does not surprise me that Barstool is broadcasting a mid-major matinee on Dec. 30. 9-4 Ohio from the MAC takes on 7-5 Wyoming from the MWC and this is just going to be a bad game. Wyoming has a competent defense giving up 24 points a game, and Ohio has a lost offense that is being led by their backup quarterback CJ Harris after starter Kurtis Rourke went down with injury. With that being said, Harris has shown flashes behind center and Ohio knows how to win these ugly games. Ohio 27 Wyoming 22. 
Orange Bowl
Dec. 30
8:00 p.m. EST
ESPN
   This game is when all the big boys start to play as sixth-ranked 10-2 Tennessee from the SEC takes on tenth-ranked 11-2 Clemson from the ACC. Tennessee has the best offense in college football highlighted by backup quarterback Joe Milton who has been near perfect in relief of Heisman candidate Hendon Hooker ever since his injury. Clemson has one of the nation's best defenses and scores 35 points a night. Both teams recently lost to South Carolina and had playoff aspirations throughout the year. I would love to pick Tennessee here, but Joe Milton still raises some question marks for me and has not had to face this level of competition yet. Clemson 31 Tennessee 30.
Music City Bowl 
Dec. 31
12:00 p.m. EST
ABC
   Do yourself a favor and sleep in for this one. 7-5 Iowa from the Big Ten take on 7-5 Kentucky from the SEC. Both teams have top-20 defenses and both teams have offenses outside the top 100. Kentucky's quarterback Will Levis among many of his wide receivers have opted out and Iowa will be on their third-string quarterback. Kentucky 16 Iowa 9. 
Sugar Bowl
Dec. 31
12:00 p.m. EST
ESPN
   Take back what I said about sleeping in because you will want to tune in for this one as fifth-ranked 10-2 Alabama take on eleventh-ranked 11-3 Kansas State. Alabama has a top-five offense and a top-10 defense led by quarterback Bryce Young and linebacker Will Anderson Jr. Kansas State has a top-20 defense and a great run game led by running back Deuce Vaughn. Alabama will just be too much for this Kansas State team, and Alabama head coach Nick Saban does not lose in December very frequently. Alabama 33 Kansas State 24.
Fiesta Bowl (CFP Semifinal)
Dec. 31
4:00 p.m. EST
ESPN
   Finally, we have made it to the College Football Playoff (CFP). Undefeated second-ranked Michigan from the Big 10 takes on 12-1 third-ranked TCU to see who advances to the championship. Michigan has a top-seven offense and a top-five defense and has looked great all year. Even when Heisman candidate running back Blake Corum went down with injury, Donavan Edwards was able to fill in his shoes perfectly and help the Wolverines beat Ohio State. TCU's offense is just as good as Michigan's with quarterback Max Duggan and running back Keandre Miller leading the way. My heart says TCU, but their play calling was just so bad in crucial moments in their lone loss to Kansas State I just cannot count on them correcting that.  Michigan 41 TCU 35.
Peach Bowl (CFP Semifinal)
Dec. 31
8:00 p.m. EST
ESPN
   This game is a lot more lopsided than the previous one, undefeated and top-ranked Georgia from the SEC takes on fourth-ranked 11-1 Ohio State from the Big Ten. Georgia has a top-10 offense and the second-best scoring defense in the nation. Led by running back trio Kenny McIntosh, Daijun Edwards and Kendall Milton, Georgia is able to control the tempo of the game and suffocate opposing offenses when they are on defense. Ohio State has the second-best offense in the nation and gives up 20 points per game, making them much more vulnerable than Georgia and they showed it against Michigan. CJ Stroud has had a brilliant season, but I am confident Georgia can do what Michigan did and shut him down. Georgia 35 Ohio State 26.
ReliaQuest Bowl 
Jan. 2 
12:00 p.m. EST
ESPN2
   Mississippi State head coach Mike Leach passed away the night of Dec. 12 according to ESPN. Mike Leach was a class act coach and always gave the most hilarious interviews. He had twenty-fourth-ranked 8-4 Mississippi State from the SEC ready to take on 8-4 Illinois from the Big Ten. Illinois had a renaissance in their football program this season, securing their first winning season since 2011. They have the nation's best defense, but just an average offense that is kept afloat by running back Chase Brown. Mississippi State has an impressive offense behind the arm of quarterback Will Rogers but gives up a lot on defense. I have Mississippi State finishing off their season with a win and playing hard for their beloved coach. Mississippi State 27 Illinois 23. 
Citrus Bowl
Jan. 2
1:00 p.m. EST
ABC
   After giving Ohio State everything they had, 8-5 Purdue from the Big Ten take on sixteenth-ranked 9-4 LSU from the SEC. Purdue will be without their head coach, Jeff Brohm, as he took a job with Louisville and stepped down. LSU has a top-40 offense led by quarterback Jayden Daniels who also leads the team in rushing. Purdue has an inefficient gun-slinging offense that will be even less efficient with their play caller being absent. LSU 33 Purdue 24.
Cotton Bowl Classic 
Jan. 2
1:00 p.m. EST
ESPN
   The biggest surprise of the season is easily fourteenth-ranked 11-2 Tulane from the AAC as they take on eighth-ranked 11-2 USC from the Pac-12. Quarterbacked by Heisman winner, Caleb Williams, USC's offense is top-three in the nation, but their defense is less than ideal. Tulane has a top-25 offense and defense led by running back Tyjae Spears. My heart is telling me Tulane, but Wiliams and USC are just going to be far too much for the Green Wave to handle. USC 38 Tulane 26.
Rose Bowl 
Jan. 2
5:00 p.m. EST
ESPN 
   Big Ten vs Pac-12. East vs West. There is no better tradition than the Rose Bowl, and this year will be no different as ninth-ranked 10-2 Penn State takes on seventh-ranked 10-3 Utah. Utah has the eighth-best offense and a top-25 defense. Penn State has a top-20 offense and the tenth-best defense in the country. Utah is coming off a dominating win against USC and Penn State lost to both the ranked teams they played prior (Michigan, Ohio State), so I have Utah riding their hot hand with the help of a big game from quarterback Cameron Rising. Utah 38 Penn State 33.
CFP National Championship Game
Jan. 9
7:30 p.m.
ESPN
   I predict that the top-two teams will both be going into the game undefeated looking to have a perfect season. When it comes down to championships, defenses win and I see the same happening here. JJ McCarthy and Stetson Bennett are nothing more than game managers riding the wave of a great defense and run game. I think this will be a low-scoring affair with Georgia ultimately coming out on top thanks to big games from tight end Brock Bowers and defensive lineman Jalen Carter. Georgia 26 Michigan 21.
   The college football bowl season is always a great time. So, make sure you prepare yourself because this second half slate has got some doozies.
Leave a Comment
About the Contributor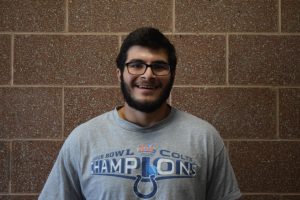 David Jacobs, Reporter
David Jacobs is a senior at Fishers High School and is a reporter for the Tiger Times. He plays football and throws shot put/discus for track.