Million Meal Movement club grows through the year
How the club started, how it is going and what it is planning for the future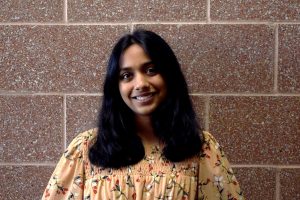 More stories from Veda Thangudu
    The Million Meal Movement club started out as an idea by current juniors Saanvi Ibrahimpatnam and Jahnavi Kondeti, in spring of 2022. The club was officially formed in August 2022, with Katie Young as the sponsor. There are three students holding leadership roles in the club, Kondeti being the President, Ibrahimpatnam the Vice President and junior Aidan Shiveley holding the position of a board member. They conducted the call-out meeting for the spring semester after school on Jan. 18.
Question: What inspired the club to arise? 
Ibrahimpatnam: Looking back, we started this club in Jahnavi and I's sophomore year. We wanted to do something service-based. We've both done volunteering events and we haven't seen anything like the Million Meal Movement. We were both passionate about giving back and learning the importance of giving back and we thought this was the best opportunity to. 
Shiveley: I just wanted to help out with the community. I wasn't there for the start, but I started this year, back in August when we had the call-out meeting and I've been here since.
Question: What are some of the short-term and long-term goals of the club? 
Ibrahimpatnam: Short-term right now is just getting more people, especially freshmen or just getting anyone who's interested to join the club and really learn about it. Long-term [goal is to] keep it to stay and hopefully build a legacy here at Fishers because we're the first school in our district to keep it. So making it a big club like National Honor Society or the Riley Dance Marathon. 
Shiveley: Short term right now in terms of events, we're getting stuff with Gleaners in Indianapolis moving quickly. Long term, hopefully we can get things going with food pantries and soup kitchens that we regularly attend. That's the goal. 
Question: So how is the club working towards achieving those goals?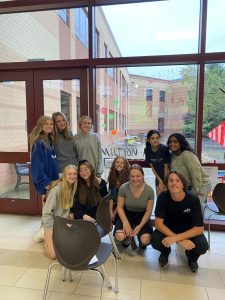 Ibrahimpatnam: Right now, we are working on the day of service, meeting with the Gleaners staff. Building those connections is one of the best ways we're doing so. And also marketing to the younger kids, underclassmen as well as upperclassmen. 
Shiveley: We're doing a lot of community outreach and really just trying to get attention for the club. We just got a lot of new students attending and we're gonna have a lot of bigger numbers coming up soon. 
Question: What were some of the hardships you and Jahnavi faced when you started the club? 
Ibrahimpatnam: Just getting it moving. One of the first things we had to do was find a sponsor, after thinking of an actual club. We looked at multiple sponsors, we talked to multiple teachers, but it was hard getting the support. It was difficult because we'd get a lot of nos. They are like "like, that's a great idea, but we can't, and so being persistent and staying motivated was a difficulty. Also, after we got the club approved, just getting people to acknowledge that the club exists, when we're competing against other service-based clubs and being a completely new club, it was really hard, but getting people like Aidan who are actually passionate about community service has really helped us grow.
Shiveley: We're still kind of facing some of the troubles about getting attention.
Question: How are some of the ways you overcame those hardships?
Ibrahimpatnam: Just staying determined and persevered. Having passion is the best way and the only way we keep on going with it. 
Question: What message do you have to the audience? 
Ibrahimpatnam: Give back. It sounds weird with colleges expecting you to volunteer and how it looks good in colleges, but being able to be involved in your community and just making a change is something that's so fulfilling. When you're given the opportunity to do so, please do. 
Shiveley: I full-heartedly agree. I joined the club for that exact reason and I've found the camaraderie in the group. It really does put my mind at ease knowing that I'm doing what I can.
Question: Is there anything else you'd like to add? 
Ibrahimpatnam: Join the club. 
Shiveley: I like to believe that a lot of them are great people and I think that they all want to help. And I think that sometimes they just struggle to find the outlet for it. A lot of clubs have a lot of mandatory expectations. It's a comfortable club, we're all we're trying to do is help out.
Ibrahimpatnam: Our meetings aren't required or anything. It's just, if you're interested, you can show up. We're not holding you against anything. We're just giving you the opportunity to do something, we're just an outlet. 
Leave a Comment
About the Contributor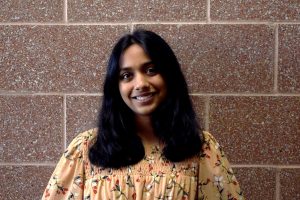 Veda Thangudu, Features and Online Copy Editor
Veda is the features editor and a junior at Fishers High School. She's excited for this year of newspaper.