A debut in the spotlight
Fishers show choirs display new sets for first time
    This Saturday, performers from all across the state of Indiana crowded into the FHS auditorium for the 2023 Silver Spotlight. Spotlight, as it is often referred to by choir members, is an annual show choir competition hosted by FHS and is the debut of both of the Fishers show choirs' annual sets.
    Sound, the unisex show choir, and Electrum, the mixed show choir, each have one show choir set every school year. This set is intended to revolve around one storyline, with the music, dances, soloists and costumes invoking aspects of that storyline. The choir directors emphasize the importance of keeping any and all aspects of the set a secret until the Spotlight debut.
    "[Keeping sets a secret] is kind of a weird show choir thing," senior Grace Mandel said. "A lot of schools keep it a secret. I think it adds to the magic of going to a competition and being like 'I've never seen the show before.' I think [the secrecy] just adds to the excitement of [competitions]."
    This upcoming season will be Mandel's fourth, and last, as a member of Sound. The title of Sound's set is "The Boleyn Dynasty," and revolves around the struggles of Anne and Mary Boleyn, both lovers of King Henry VIII, as well as Queen Elizabeth I, the daughter of Anne Boleyn and King Henry VIII. Mandel plays the role of Anne Boleyn, with seniors Rose Bohlsen and Holly Kalk playing Mary Boleyn and Queen Elizabeth I, respectively.
    "[The show has] really, really challenging musical material," Mandel said. "It's super challenging, because, you know, it's built for Broadway performers and I am a 17 year old."
    Among other pieces, the set contains selections from both Broadway's "SIX: The Musical" and "Hamilton." Electrum's set, 'Finding Wonderland,' is based around the popular Lewis Carol story "Alice's Adventures in Wonderland," more commonly known as simply "Alice in Wonderland." Along with providing the opportunity for the choirs to debut their sets, Spotlight also marks the start of the show choir competition season, which will end in mid-March, but requires performers to attend sometimes 20 hour long competition days most weekends.
    "There's always something that you're nervous about going into [competition] that might have gone wrong earlier that week," junior Kellyn Johnson said. "I'm stressed because I have a lot of weight on me from the choirs [because] as the head [of crew], I have to make sure everything goes smoothly on my end and if something doesn't, then [the show might not go well]."
    Accompanying the show choirs is Silver Linings, the student and volunteer based musical group who rehearses with the choir weekly, as well as Silver Shadows, the tech crew made up of students and parent volunteers who work behind, and under, the stage so the choir's performances go smoothly.
    Despite choir season being a very busy time, Mandel cites Spotlight as an occasion that inspires her to reflect. 
   "When Miss T met me, I was just such a young kid," Mandel said. "I was 13, and now I'm about to turn 18 and go to college. I just always get so nostalgic about my first spotlight at this time of year because that was my first experience where I was like  'wow, I want to perform for the rest of my life.' It's corny, but it's true, so [Spotlight] always has a special place in my heart."
Leave a Comment
About the Writer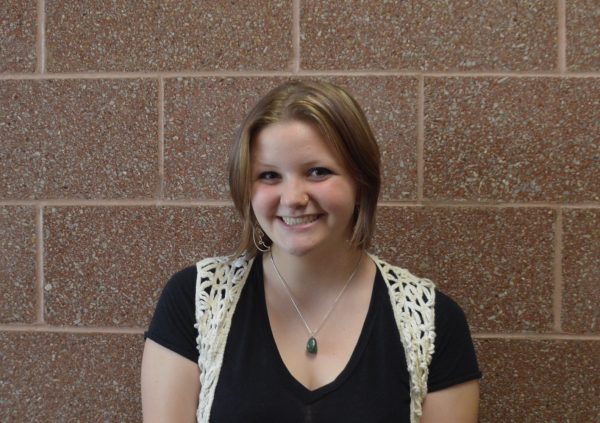 Emerson Elledge, Copy and Visual Editor
Emerson Elledge is a senior. She spends far too much time on her IB classes and wears too much jewelry. Her hobbies include studying philosophy, writing...