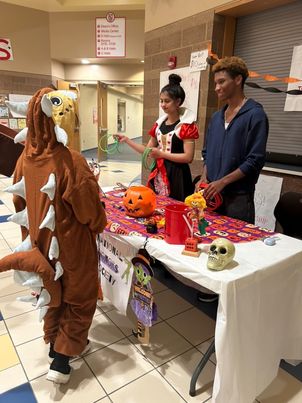 One of FHS' annual Halloween traditions is All Treats No Tricks. It is a safe, booth-style trick-or-treating event put up by the Riley Dance Marathon (RDM) club for Halloween. RDM's main goal is to raise money for the Riley Children's Hospital and support Riley families. It is open to the entire Fishers community.
"We love this event, it has been around for a long time and is such a great way to get our community involved with raising money for Riley," RDM president senior Raegan Mcmullan said.
This year, it was held on Oct. 25 from 6 p.m. to 8 p.m. at FHS. Each club that registered got a table for the night. Typically, representatives decorate with Halloween decor and dress up to pass out candy to visitors. 
"We have tables wrapped around the CCA windows, downstairs C hallway and outside of the downstairs H hallway," Mcmullan said. "We also have [a lot] of decorations and photo opportunities."
All Treats No Tricks is one way through which clubs are brought together for one event.
"All Treats No Tricks has been a tradition almost since FHS became a school," Mcmullan said. "[Mrs. Goodwin, a sponsor] said we have been doing this event since 2008."
Although there was no entry fee, donations were encouraged. All the money they collected goes towards raising money for Riley Children's Hospital. This year, RDM collected $1,200 just at All Treats No Tricks.
"The purpose of this event is to create more community awareness of FHS RDM as well as be a fundraiser for Riley Children's Hospital," Mcmullan said.
To host a successful event at this scale, a lot of planning is involved. According to Mcmullan, the club started planning for it in early September.
"We have to coordinate all the clubs who are coming and where they will be [located]," Mcmullan said. "Additionally, we have to get approval for the event. Our executive team works to promote this event to the community which also takes planning. We also have to decorate the school with Halloween decorations."
For two years, RDM has been collaborating with the International Baccalaureate (IB) program to set up a haunted house as a part of the event. It was set up in the back of the H hallway.
"Kids get to walk through this at the end after walking through the trick or treating," McMullan said. 
Seniors Surya Logeswaran, Benjamin Miller and Nickolas Markou hosted the haunted house.
"I participated in it last year and I want to carry on the tradition," Logeswaran said. "It's a really cool thing and I like seeing everyone who walks through it happy."
According to Logeswaran, planning the haunted house took a little over a month. The process started with Getting approval.
"We had to recruit volunteers, [and] have a meeting to discuss the plan," Logeswaran said. "Then a rehearsal, and then finally the event."
The main goal of the haunted house was that all participants had fun during the event, and all visitors enjoyed it. This year's theme was Frightening Fiesta.
"It starts off with a little skit where people are playing cup pong and then as you walk through the hallway you'll see a bunch of jump scares, skeletons, coffins, cobwebs, etc.," Logeswaran said.
Both Mcmullan and Logeswaran hope the event is a continued success in the future years. 
"The planning and work towards the event is worth it because all the money goes to the children at Riley Children's Hospital," McMullan said.