Students honored on Senior Night
All seniors who were involved in a fall sport, were introduced on the field by their coaches and parents to celebrate their last year as a high school athlete. All senior players took a day out of their week to gather together and celebrate their athletic achievements.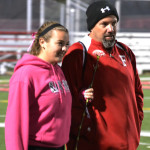 Many were recognized during the last home football game. SeniorLucas Green talks about the impacts of his senior night. while playing varsity football during the fall of his senior year, Green took out a Saturday to spend with his parents and the team.Football games and events are usually schedules for week days, but senior night was set up differently.
"It was a little different considering it was on Saturday afternoon, but overall it was a great experience," Green said.
Thanks to the team, his family and his friends, it is something Green will remember forever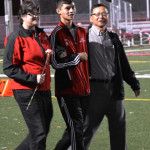 "It was a lot of fun being able to celebrate my career with my best friends," Green said.
With no fear of standing up in front of his peers, Green focused on the positive benefits of this day instead of the negative. According to Green and many of them players, the day brought nothing but smiles and great memories to all the students, parents and coaches.