Junior Jackson Barrett and sophomore Jon Hornett won the doubles sectional and are still in the tournament after beating HSE on Oct.  2.  They then went on to win at North Central against Greenfield North on Oct. 9 as well.  The rest of the boys tennis season came to a close on Oct. 2 because they lost the team tournament at sectionals to HSE.
"This year we were really good," Coach Matt Stahl said. "We just had a couple close losses."
Stahl also went on to say that the team made every goal they had made in the beginning of the season.  The team finished 18th in the state with this being the first year the team has been ranked.
"The highest point of the season was when varsity won the Noblesville Invite," coach Stahl said.
"
"I need to teach the team to understand the drills earlier in the season.  I also need to get the team in sync more, and as a coach, I need to get involved more with the players," he said.
Coach Stahl is already looking towards next year. There were plenty of close matches this year.
"We lost to HSE twice and we let Brownsburg and Cathedral slip away from us," Coach Stahl said.  "We also let conference get away, only being one point out of being tied for second."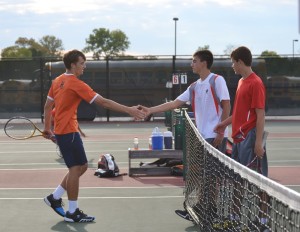 The three seniors this year were Andy Kroehler, Xander Wright, and Chaz Sheffer.
"We had great seniors this year,"  Stahl said. "They were great role models, listeners, players and leaders."
Plenty of people thought they had improved this year.
"I thought it was a great year with great improvement," freshman Daniel King said.  "The only thing bad about it was that there was too much Chick-Fil-A at the matches."
The team is still having practice while Hornett and Barrett are still in the tournament.  The next match is on Oct. 19.
Submitted by guest contributor Matthew Jones