With a packed house that included FHS alumni from the original high school's class of 1964 and the Class of 2009, the FHS Tigers took on the McCutcheon Mavericks in FHS' annual homecoming game at Reynolds Tiger Stadium on Friday, Sept. 27. The Tigers won 47-28.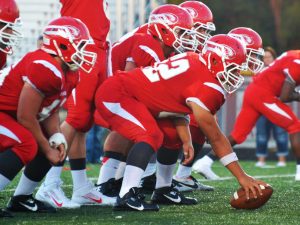 FHS scored the first points, as running back Harvey Allen scored a nine yard touchdown run. The extra point was missed.
At the start of the second quarter, Harvey Allen got his second touchdown run of the game, as FHS moved ahead 13-0.
An FHS 58-yard touchdown pass from quarterback Connor Christiansen to wide receiver Simeon Foster pushed the Tigers' lead to 27-14. A late field goal kick gave FHS a 30-14 halftime lead.
During the third quarter, a four yard pass from Christiansen to wide receiver Brad Freeh put the Tigers up 40-14. A 68-yard punt return by wide receiver J-Shun Harris put FHS up 47-14. McCutcheon scored two more touchdowns during the half, but the Tigers finished their homecoming game with a win.
FHS senior linebacker Griffin Hulecki had bittersweet feelings about playing in his last homecoming game.
"We wanted to leave a lasting impression on all the fans who weren't going to see us play again, and I think we gave them our best," said Hulecki.
"We're not supposed to pay attention to the crowd, but we have no choice because of how loud it gets. Everybody who comes out and supports us is awesome. Every game we win is for them."
The Tigers, with a 5-1 record, will travel to Zionsville on Friday, Oct. 4, to take on the Eagles, who currently post a 3-3 record.