Fusion Dance Team grooves back from NDA Nationals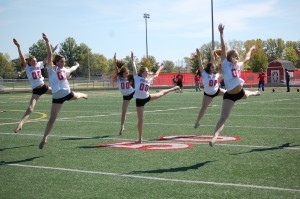 Undefeated lyrical champions Fishers Fusion Dance Team return from their second national of which took place March 7-9 in Orlando, FL at the Hard Rock Live in Universal Studios.
From December to March, the varsity Fusion Dance team has competed in eight events including two nationals, the Ohio Jamfest in Feb. and the Florida National Dance Alliance Nationals in March. According to Vogel during the three days in Orlando whenever the team was not competing they were practicing. The girls finished sixth in jazz and seventh in poms out of 30 teams in addition to taking first in lyrical.
"My favorite part of nationals was spending so much time with my team and making my coach cry with how great and nearly flawless our performances were," said varsity member, junior Meredith Vogel.
There are 14 members on varsity, eight from HSE and six from FHS. In HSE's old weight room the team practices on Tuesdays and Thursdays from 6-9 pm and occasionally will show up on Saturdays to perfect routines.