Plastic recycling gone, is paper next?
Luka Skudrzik- Students may have noticed a big change in the recycling program. Plastic has disappeared, and likely will not return. This decision made by administration was another attempt at cutting down the school budget.
"We do a lot of plastic, but it's paper that is our biggest bulk of our recycling, so when the choice had to be made, it came down to a matter of cost. It had to go," instructional assistant and Recycling Club sponsor Warren Sidwell said.
This change started in the last month of the spring semester the previous year, but it really took effect this year.
Ray's Trash Service is the company that the recycling goes through. They come every two weeks to collect the recyclables from the bins outside of the school.
"Originally, they paid us for it. Then they said there wasn't as much money in recyclables, so they couldn't pay us anymore, but they could pick it up for free," Sidwell said. "Then they said, the bottom's fallen out of recycling, and we are going to have to start charging you. And that was when the decision was made to put plastic to the side."
In-school pick up goes through a four day rotation. Groups of students go and collect the paper from both upstairs and downstairs. Friday is a makeup day for any rooms that were not collected.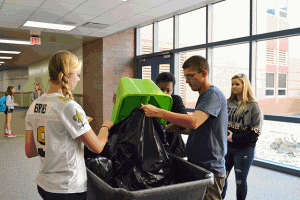 "There was some talk about doing away with paper also, but right now for the foreseeable future, we are going to continue doing paper," Sidwell said.