Dylan Hughes- In the first ever meeting between FHS and the Pike Red Devils, the rocking student section witnessed a fight to the end.
The Red Devils marched down the field to open up the game, striking the first score of the game with a touchdown pass. Later on, junior Jeremy Chinn pulled in an interception, which led to a quick Tiger score, tying it up 7-7.
The Tigers punched in a touchdown run from the three yard line after recovering a Pike muffed punt. A long touchdown pass got Pike another score before the half, but fumbled the extra-point snap, giving Fishers the 14-13 lead at halftime.
At the 6:12 mark in the 3rd quarter Pike scored again, but a blocked extra point made the lead 19-14.
The Tigers took a long drive down the field and scored as senior Maurice Campbell ran it in from four yards out. Fishers then took the 22-19 lead after a two point conversion. An interception by sophomore R.J. Potts closed out the third quarter for the Tigers.
Pike controlled the ball for the majority of the fourth quarter, and a five yard touchdown run would give them the 26-22 lead, which went on to be the final score.
With less than 2 minutes left, Fishers had the chance to possibly score and give themselves the lead, but lost the ball deep in Pike's territory on a questionable fumble call. The Red Devils bled out the rest of the clock, and went on to win the game.
"We knew they were gonna be big, we knew they were gonna be fast and we knew they were gonna play physical football," Co-offensive coordinator/offensive line coach Michael Kelly said. "We knew they were gonna be quick and fly around. We had to be after them in order to win this game."
The loss to Pike gives FHS a 1-1 record. The team's next opponent will be the Noblesville Millers, who they will face on September 5.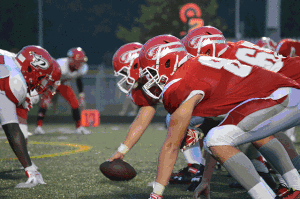 "They've got a great defense. They've got almost everyone back from last year's team. They were right there with us in the sectional playoff game last year. We gotta do the exact same thing we did tonight, and that's just come out and play smash-mouth football," Kelly said.