Mitch Lorkowski –The boys soccer team lost a regional game against Harrison on Thurs. Oct. 16. The teams previously played on Sept. 30, which the Tigers won 3-0.
The first half went by with no goals from either side. Towards the end of the second half, still scoreless, the Tigers put on a lot of pressure and had many close shots on the goal, all of which missed.
Overtime rolled around. Two, seven minute halves are played, and whoever scores the most goals after that time is up wins. If no team scores, the game goes into penalty shootouts.
"We were playing well at the end of the second half with moving the ball a lot and getting good looks, so I thought we would be able to punch in a goal and take the victory," Senior Zach Antisdale said.
The first overtime passed and no goals were scored. Three minutes into the second overtime, Harrison was able to score off a header. Fishers had four minutes to tie it up with a goal but failed to do so ending there season with a 0-1 loss.
"Going into the game we were really confident, we thought we would beat them easily like we did earlier in the season. Coach told us not to take teams for granted, some of us did that because we knew we were better than them," Antisdale said.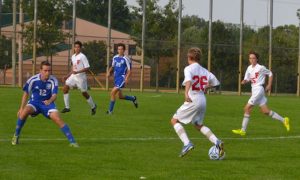 While the tigers did lose, they made history. They were the only boys soccer team in FHS history to make it to regionals.