Congresswoman speaks to seniors about civic duty
Ryan Ahler- Congresswoman Susan Brooks spoke to the senior class in a convocation during first period on October 30 in the auditorium in preparation for most seniors first chance to vote.
Even though Brooks is up for re-election, she did not ever try and convince students to vote for her; she instead focused on why voting is an important civic duty and why young people in particular need to vote. In particular she recounted how close her own race for the house of representatives was, being decided by less than one percent.
"Every vote really does count. So I would just ask you that next Tuesday you would encourage your friends, encourage your parents (to vote)," Brooks said.
Voting will take place on November fourth. Only US citizens over 18 are allowed to vote, they must register here.
"This is not a presidential election year. the Governor is not on the ballot, Senators are not on the ballot, but these other positions are so important and they are on the ballot," Brooks said.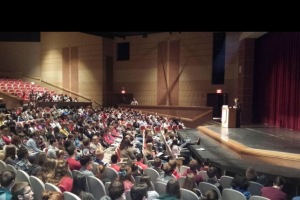 Before she spoke to the senior class, Brooks had breakfast with the "We the People," and administrators. Then during the convocation, three members of the team were given the chance to have Brooks answer their questions.