Girls cross country sends one to state meet
Haley Thomas, Guest Writer – Freshmen led the way in semi-state for the girls cross country team at their meet Sat., Oct. 25. Four competed at semi-state – freshman Corrinne O'Leary, freshman Liz Rogers, junior Nacketa Scanlon and junior Lorinda Kirk; only O'Leary qualified for state finals.
O'Leary finished first for FHS and 31st overall with a time of 19:39, followed by Rogers, who finished second for FHS and 50th overall with a time of 20:11.
"I think they've done a really good job of stepping up to the plate and filling spots that we lost last year, since last year we lost 14 seniors, and 11 of those were in the top 14. They've done a good job of working hard and keeping up with the upperclassmen, and even pushing them as well," head coach Elizabeth Jahns said about the freshmen's performance this year.
O'Leary finished eight seconds short of her personal record. She still strives for a season goal of 19:15, which she hopes to accomplish at state.
"I just think 'Oh, I'm going to run my heart out and try to find my goals, and just keep positive thoughts in my head," O'Leary said. These thoughts keep her motivated throughout her races.
O'Leary will compete against teams from Carmel, Avon, Warren Central, Zionsville and Indianapolis Cathedral, among other teams and individual runners.
"Overall, our goal is to get all our runners under 20 minutes," Jahns said.
While this goal was not achieved in earlier meets, the teams expects O'Leary to run under 20 at state.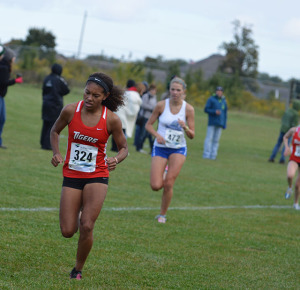 **Update 11/2:  O'Leary finished 106 out of 208 at the state meet with a time of 19:45.