Madi Calvert– Hosted at Zionsville High School, the FHS Winterguard performed in their second show of the season.
Coming to the school early in the morning, the participants stretch and practice for a couple of hours,  and the  teams, JV and Varsity, spin their flags for half an hour.
"After that, we get ready and do our hair and makeup and stuff, and then we get on the bus," sophomore Alex Miller.
When they arrive, the team practices again, completing a warm up block and spinning rifles and flags, led by the team captains. There are typically more captains in the winter, since more people join the club.
"We have the show, and it consists of spinning the flags, the rifles, and the sabers, and so it makes one big picture that all comes together," Miller said.
The results for the performance have not yet been posted, but will be soon here.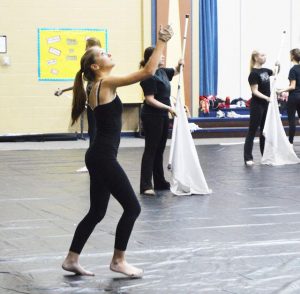 If you're interested in joining Winterguard, check out the group's Facebook page.