Dinner celebrates African American heritage
Lizzie Brown– Students, parents and faculty alike came out on Thurs. Feb. 20 to celebrate African American culture and heritage. There were musical selections, poems and a presentation given by students along with a presentation given by guest speaker Howard Stevenson.
To start off the evening, the jazz band performed outside of the cafeteria while people seated themselves. The program itself began with the Negro National Anthem, "Lift Every Voice and Sing," sung by Shaynea Rolle and a musical selection performed by the student music group River Runs.
Following the welcome, a presentation by sophomores Ioni Tcholakova and Aakash Ganesh and juniors Andy Huynh and Shawn Moore Jr. was given. They spoke about the first free black settlements in Indiana, the first being founded in 1820s, and how black history still affects our society.
Throughout the rest of the night, there was a performance by the Step Team and a poem read by senior Alexis Harrington about modern racism, and young girls asking questions like "would he like me if I was white?"
The guest speaker, attorney Howard Stevenson, an HSE board member, gave the final presentation before principal Jason Urban's closing remarks. Stevenson spoke about the importance of celebrating black history and how it is our American history and that we should focus on African Americans today. He mentioned James McKnight Jr., an FHS alumnus, who recently graduated from Yale University and African American surgeon Ben Carson, who was the first person to separate siamese twins joined at the head. Stevenson himself was the first African American to serve as a judicial law clerk in the Indiana Supreme Court.
Instructional Assistant Rachel Allen organized the event.
"I accepted the responsibility because I wanted to see the program grow and get as many students involved as possible," Allen said.
According to Allen, African American Heritage is something that needs to be shared among students.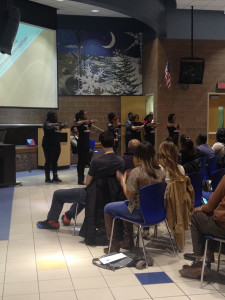 "I think its good to celebrate African American Heritage to share stories and gain a realization that no matter who you are, you can overcome barriers as long as you are willing to put in the work. Its great being able to come together acknowledging and celebrating the achievements of our history being made today," Allen said.