Dramatic finish to great Super Bowl
Ryan Ahler- Super Bowl XLIX ended differently than anyone could have imagined. Another late fourth quarter circus catch by the Seahawks looked to seal a victory, but a goal line interception by undrafted rookie Malcolm Butler let the Patriots hold on.
In the Jan. 30 issue of N the Red I wrote an article saying that the Pats would win this Super Bowl by two Touchdowns. They still won, but only by four points. I stated that the Patriots small, quick receivers would be able to create mismatches with the Seattle defense, which they did.  Wide-out Julian Edelman caught 9 passes for over 100 yards and a touchdown, running back Shane Vereen had 11 catches, and reciever Danny Amendola had 5 catches and a touchdown. I also believed that Patriots Tight End Rob Gronkowski was would cause Seattle problems, which he did, especially in the fourth quarter.
The biggest reason the Pats margin of victory was not as wide as I expected was turnovers. Tom Brady threw two picks in his first five Super Bowls, so I did not expect two in just this game. The first interception was just a bad play by Brady, but the second was a brilliant defensive play by Seattle linebacker Bobby Wagner.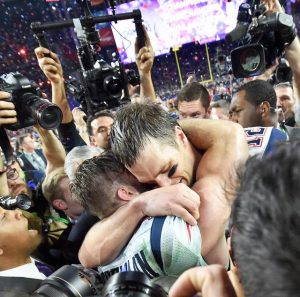 An interesting and enjoyable Super Bowl is being overshadowed by the controversial play calling of the Seahawks at the end of the game. People just need to be happy that they got a good football game after such a boring conference championship round. Plus there were those awesome sharks at halftime.