Dylan Hughes– On Fri., Feb. 20, Tigers boys basketball hosted the Zionsville Eagles in the first ever conference championship in FHS history.
It was close in the first quarter, with the Tigers leading 15-13 behind nine points from junior forward Lance Dollison.
By halftime, Zionsville held a small 1-point lead at 28-27. The Tigers had all of their 27 points on either three-point field goals or free throws.
Dollison had 15 at the half, with senior guard Keegan Kollmeyer posting nine points of his own.
After three quarters, the Tigers' three-point barrage continued and led 43-40.
In a rather high-scoring fourth quarter, the Tigers' three-point shooting, defense inside the paint and overall defense helped bring home the first ever Hoosier Crossroads Conference title after the 68-55 victory.
With sectionals coming up Mar. 3, the Tigers want to go in hot.
"A game like this, we can only get better from here so this gives us a lot of confidence to go into sectionals and play hard," Dollison said.
Dollison scored 21 points on the night, with five three-pointers.
"We were getting good looks. The ball was getting swung around real well. Everybody was hitting their shots, so that's what I accredit it to," Dollison said.
Kollmeyer led the Tigers with 28 points.
After the win, the Tigers finished 6-0 in conference play on the year.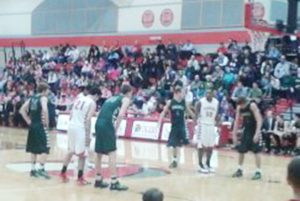 The Tigers will face North Central in the first round of sectionals, and if they win, will face Carmel after that. Carmel has a first round bye.