Dylan Hughes– After traveling to Kokomo on March 30 to begin their 2015 regular season, baseball will take a trip to Tennessee over spring break (games on April 3-4) to participate in the DeMarini/Diamond Academy Classic.
"Our trip to Tennessee is one of the best decisions we have made in our program. This is a great trip for our guys to 'get away' together, play against great competition and spend three days focused on baseball away from distractions. This trip helps build our team chemistry and has helped develop our program into the Tiger Baseball family," head coach and math teacher Matthew Cherry said.
During the preseason, Cherry and his staff use the time to evaluate their roster. The evaluation process ends as soon as the preseason does, when the regular season roster becomes official.
"We use our early games as a chance to see a lot of people play; figure out who our top players and pitchers are before the conference schedule begins. We use this time to set our starting lineup, our starting rotation, who our top relievers and closer will be and to figure out what role each player will contribute to our team," Cherry said.
There is competition at every position, but especially pitcher.
"We need four starters and right now we have five guys who are really competing for those four spots. I honestly can say that I do not believe we have a number one pitcher. They all have the capability of being our #1 on any given night," Cherry said.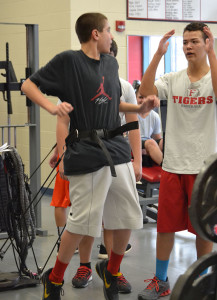 The boys began their season on March 30 at Kokomo, where they won 11-2. After their Tennessee trip, the boys return home to play at Noblesville on April 10 and also host the Millers the next day.