Orchestra to give preview concert for ISSMA contest
Lizzie Brown– Led by orchestra director Nicole Deguire, the Concert, Philharmonic and Symphonic orchestras will be giving a concert on Thursday night to preview the pieces they will be playing at the Indiana State School Music Association contest.
Sophomore Alice Yoon is a viola in the highest orchestra, the Symphonic orchestra, and enjoys preparing for concerts.
"Orchestra is kind of like my relaxing class because I like music, and it's not like 'study hard for this test'," Yoon said.
According to Yoon, the Symphonic orchestra will be performing with members of the Wind Ensemble for a few of their pieces.
"I'm looking forward to it, it's a lot of fun to perform with band members especially," Yoon said.
Some pieces that will be performed by the Symphonic Orchestra on Thursday night are Danzón no. 2 composed by Arturo Márquez and a variation of Danny Boy, the unofficial anthem of Ireland. A few of the pieces the philharmonic orchestra will be playing are the Ave Maria, arranged by Jefferey E. Turner and Sinfonia in D Major, arranged by Sandra Dackow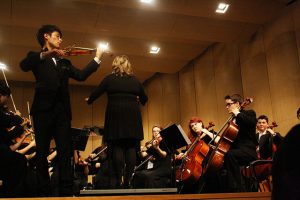 The ISSMA district contest for the orchestras will take place at Pendleton Heights High School on Saturday, Apr. 25. The orchestra concert will begin at 7 pm and is expected to run until about 8 pm.