Girls track hurdles towards Avon
Mitch Lorkowski – Racing into another meet, the Lady Tigers faced off against Avon on Wednesday, April 22.
"Avon is always up there as one of the top track teams in the state so we knew it wouldn't be an easy meet. The 4×400 meter relay was my main focus because they don't receive any points for getting second. It could've decided whether we win or not depending on how the other races went," sophomore sprinter Paris Carver said.
The girls fell to Avon 81-51. Winners of their events were senior Alexxus Smith in the long jump, sophomore Sydney Street in the high jump and freshman Destoni Grace in the 400. The 4×400 meter relay team of freshman Destoni Grace, sophomore Kayla Crose, freshman Danielle Harrison and sophomore Paris Carver also won. Kady Thompson came in second in the discus, and broke the school record throwing 114'4″.
"Disappointing loss, but overall we ran well and that's all the coaches ask for. Running our hardest and giving our best effort, there good races and bad races which happens in track. Now we need to look ahead and go from there," Carver said.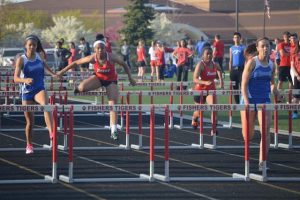 The girls next track meet is an invitational at HSE against several teams including HSE on May 12 starting at 6:30 p.m.