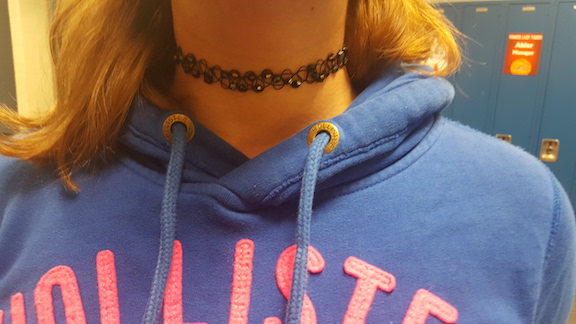 From the 19th century, women have accessorized with chokers. Chokers have risen from the 1990's and are popular again amongst girls. Stores like Charming Charlies and Forever 21 have sold over two hundred thousand chokers in just two months.
"I like chokers yet it depends on the person to me," sophomore Kristen Halliburton said, "some people don't look that well in them. I mean, if they wore the right clothes with them then it would not be a problem. One of my friends wears them for a fashion statement so I guess they could also be worn for stating something to the public."
While chokers were not a trend in the 1800's, rulers like Alexandria of Denmark wore chokers to make a statement. Chokers began trending in the 1920s to the late 1940's.
"I feel like they [chokers] are unique and bringing back an old trend. I heard of the many different meanings behind chokers yet I never get why people do that. However, I do like how that this used to be a trend and it is coming back to our generation." Freshman, Rachel Lynch says.
According to New York's Fashion Week chokers are a symbol of feminine 'fierceness.' With a choker, women can not only conceal the neck but highlight it. That enticing blend of delicacy and danger, of control and its absence, makes sense for a moment in which women are finding new ways to be powerful.